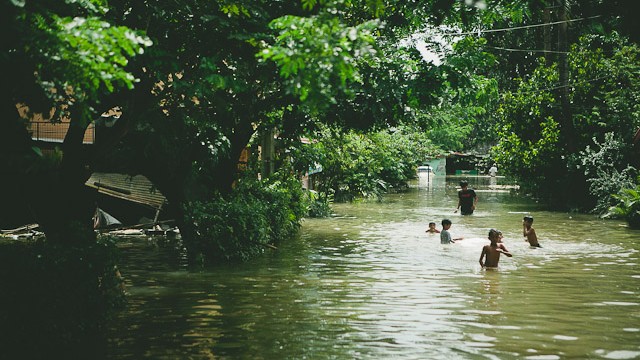 The Habagat Flood
You don't need to be rich in order to give.
It is enough to be good.
He who is always good will always find something to give.
– Saint Pedro Poveda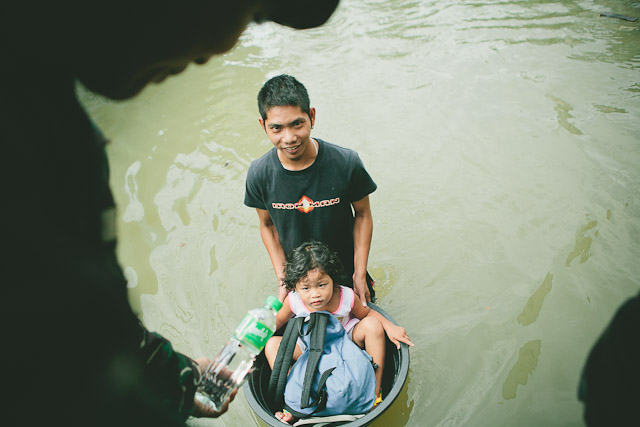 I can't say that I'm rich in wealth but I can say that I am blessed. I am blessed tremendously. I can't even write down all of my blessings because I have a lot of good things in my life. It's basically uncountable. This is the reason for this photo essay. I felt the need to share my blessings. It's not fair that I'm living comfortably while others are wet, cold and hungry. I have to do something to help.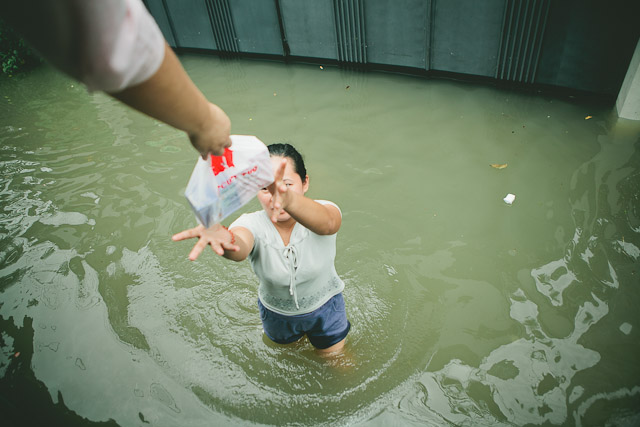 In this photo essay, I decided to show the result of a relief operation conducted by my alma mater Poveda. The students, teachers, staff and alumni's worked tirelessly side by side in order to gather, sort and pack the goods to be given to the victims. I would like to thank all the students, teachers, friends, alumni's and other various donours of Poveda who contributed their time and effort for the greater good of our cause. I pray that God will bless you all for your generosity and kindness.
This is them…Povedan's serving their brothers and sisters in need.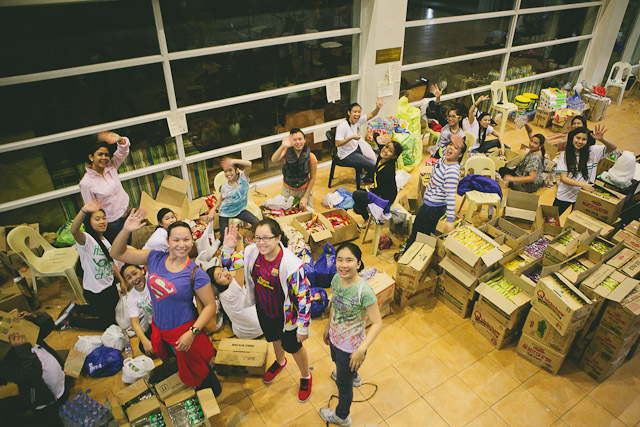 They came to help even if it was also flooding outside Poveda and all over.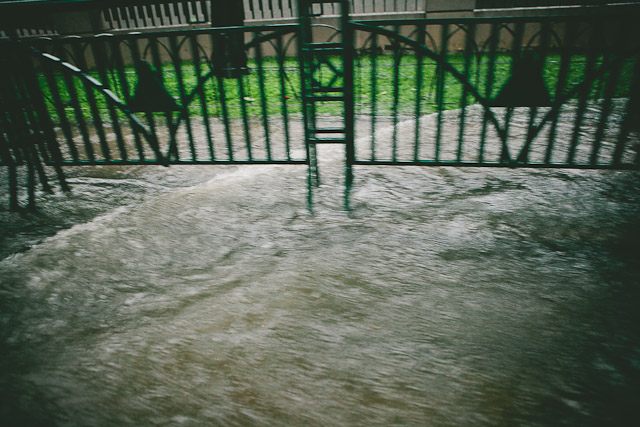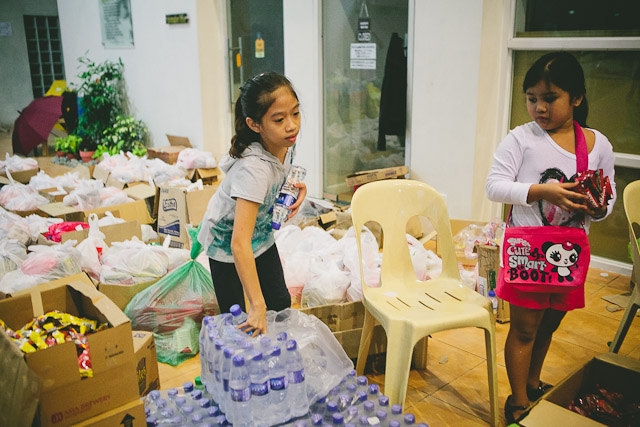 If a 7 year old girl could volunteer, it would be a total shame if I couldn't do my part.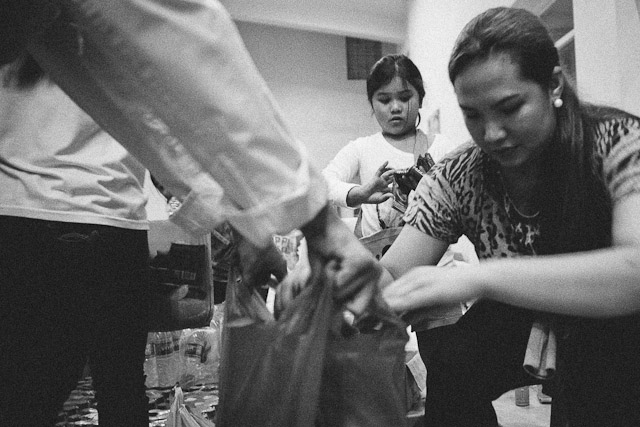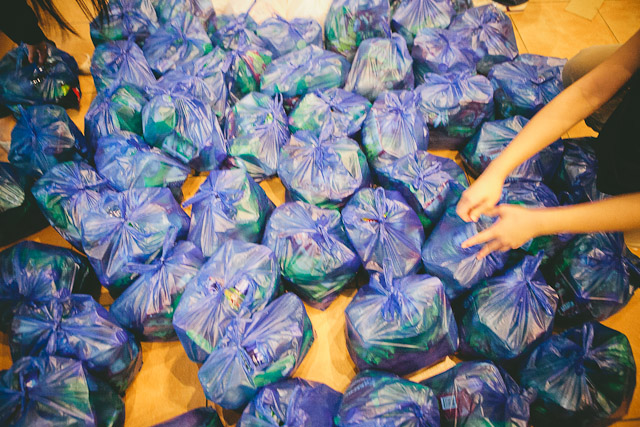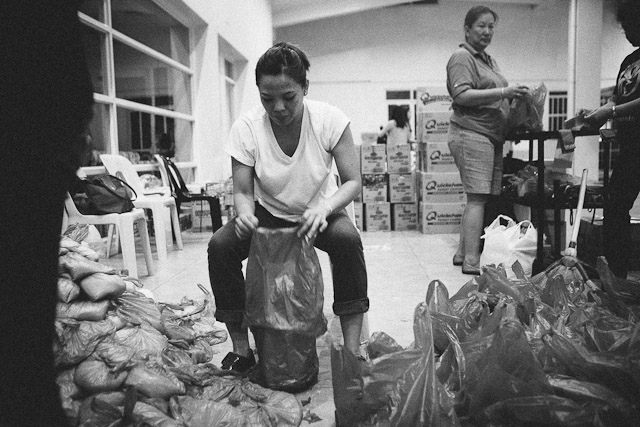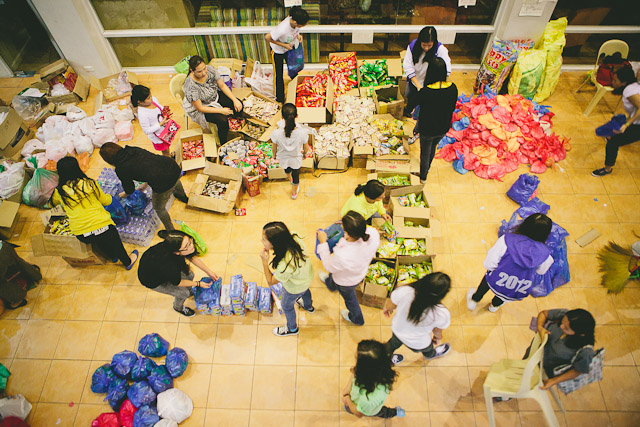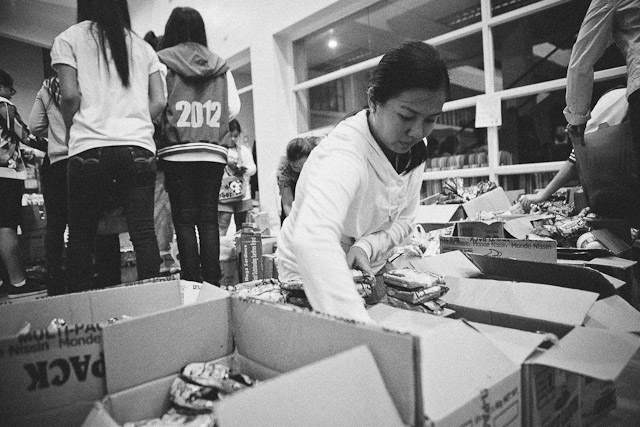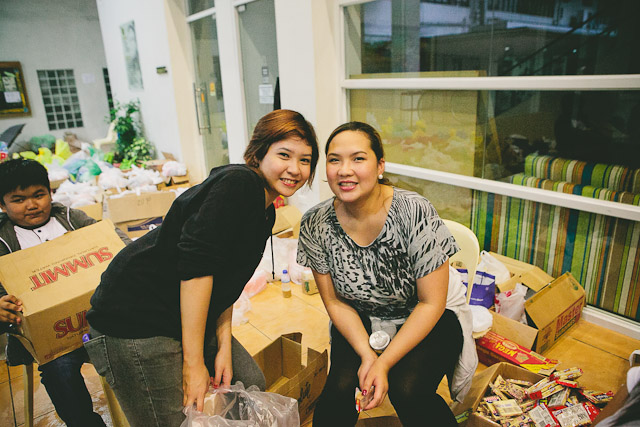 We called…and they came in bunches! The teamwork and leadership that everyone displayed made me proud to be a Povedan. Thank you to all our kind donours and thank you to everyone who helped out. Here's a photo of day 3 morning volunteers. This was not even half or a third of the people that helped out.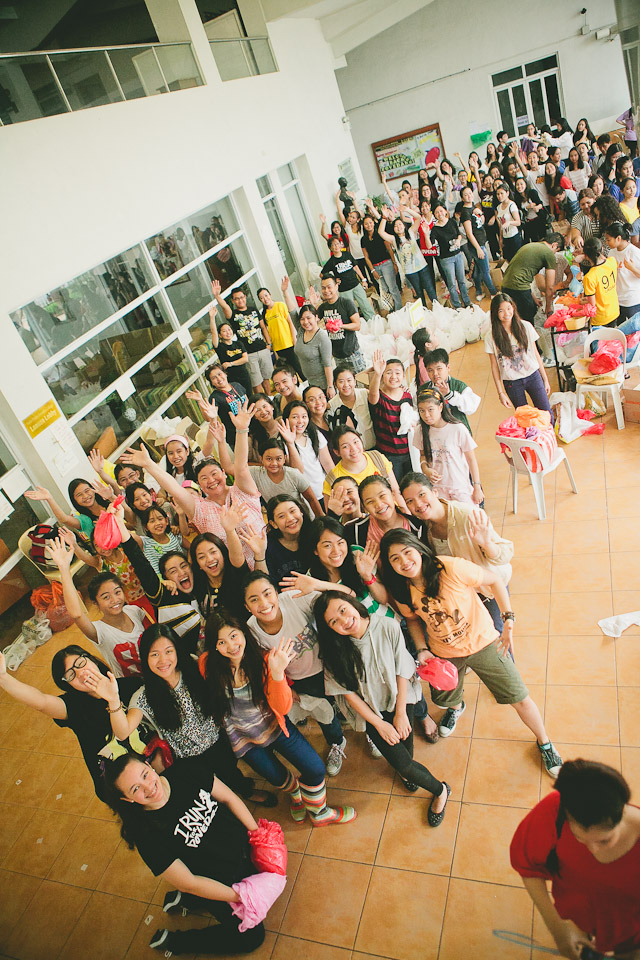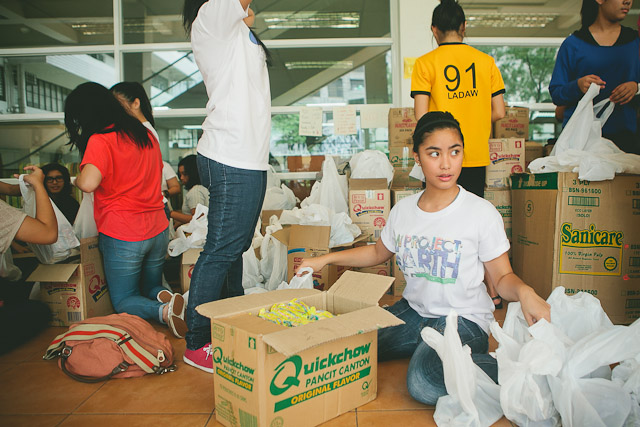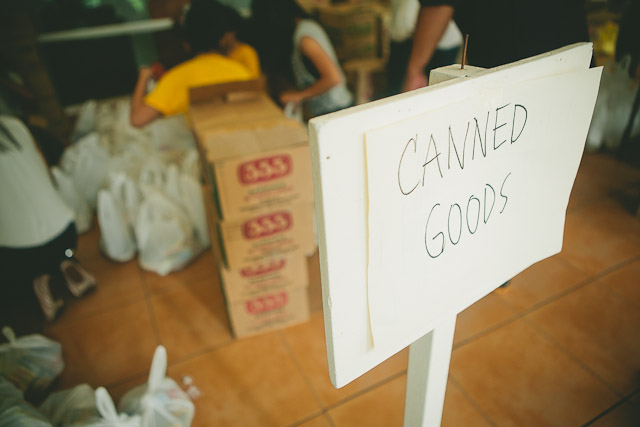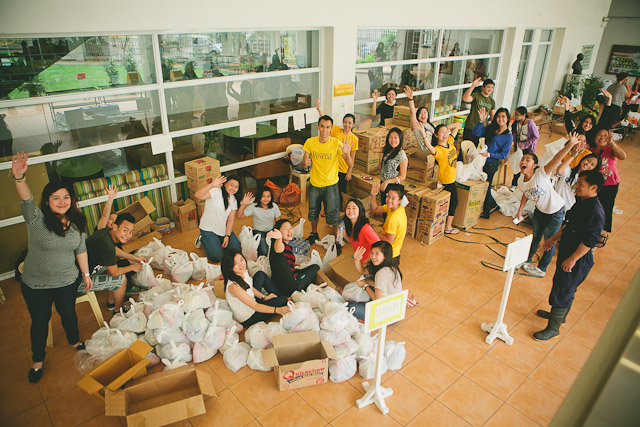 After the relief goods were gathered, I documented a relief operation put together by Poveda in collaboration with a group of CMOG Philippine Army.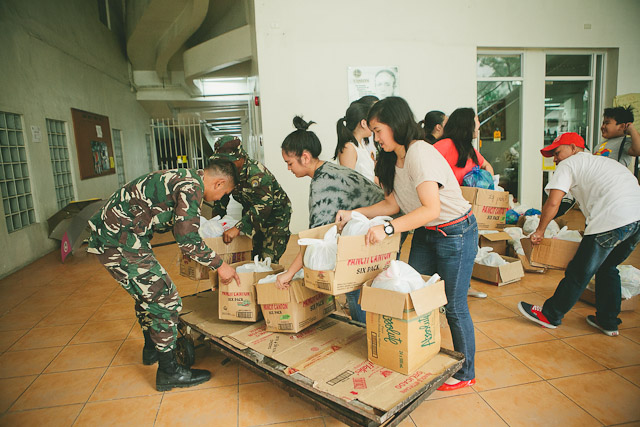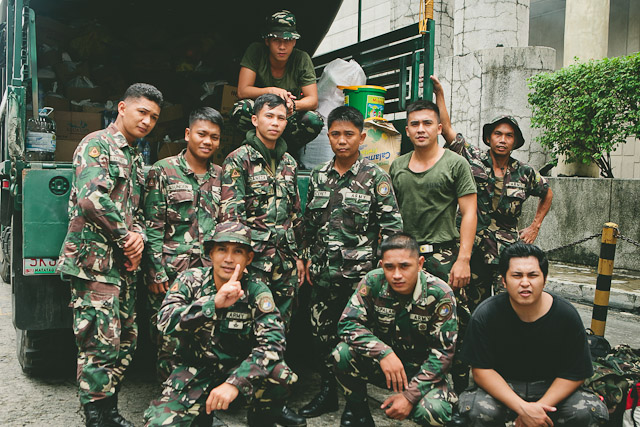 The photos I will be showing here now are photos 3 full days after the initial onslaught of the rain that flooded our cities. 3 full days had passed and the flood was still high in some areas. There were some areas that were flooded as high as 3 storeys. It's very sad to see people having to go through an ordeal like that. A lot of people lost their homes, possesions and a lot lost their lives trying to fight the flood. May God bless their souls.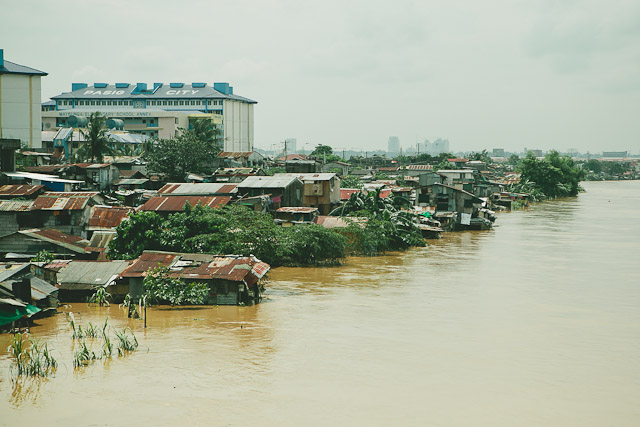 Our objectives for this relief mission:
1. Transport meds to a Poveda teacher's house because her child was ill and her area was still flooded.
2. Deliver relief goods to a family of a Poveda staff who were also badly affected by the flood.
3. Unload half the relief goods to a Church in Pasig. The Church will then be responsible to distribute the goods to their parishioners.
4. Unload the remaining goods to the house of a Poveda alumni who will then be tasked to distribute the goods to a community that Poveda regularly assists in Bambang. They were also badly hit by the flood.
These objectives are very small and not a big deal compared to what help the victims actually need. But every kind of help will go a long way. It doesn't matter what help you give. The important thing is you're doing something to help your brothers and sisters in need.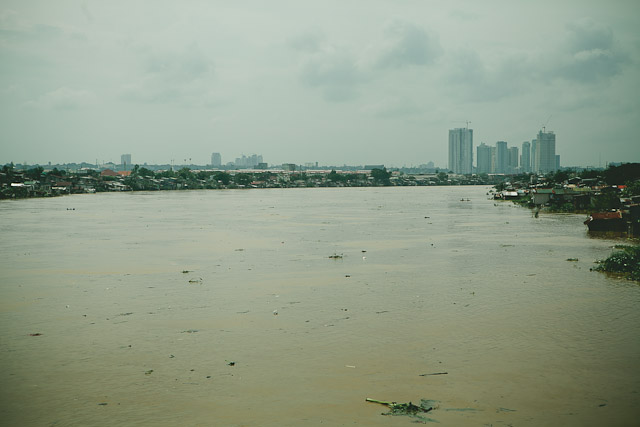 The day before the habagat devastated our country, I sort of had a feeling that something terribly wrong was about to happen. Low and behold, cities were flooded and people suffered. Cities looked like oceans.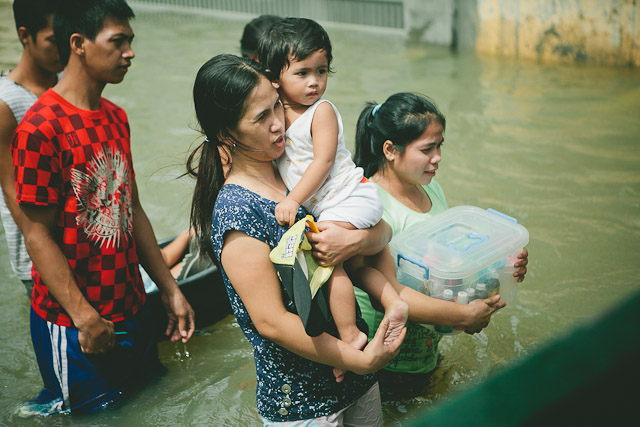 I couldn't stomach it because I still remember Ondoy's wrath back in 2009. Ondoy flooded my brother's house and a lot of people I know. A total of 464 lives were lost during Ondoy and I knew how devastating it would be for the Philippines if it were to happen once again.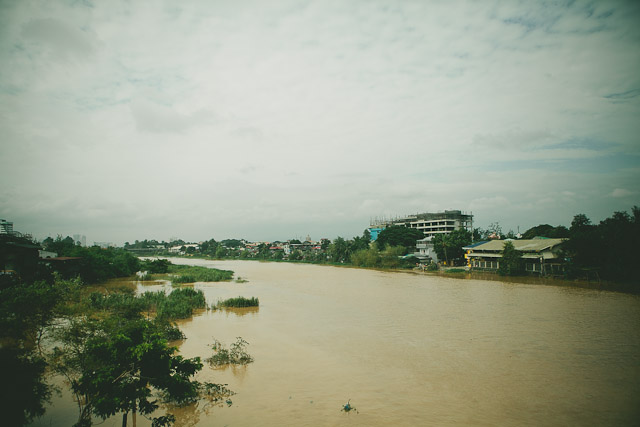 I kept alert that first night the rain started pouring. I knew a lot of people were going to be affected.
Sadly, I was right and the unthinkable happened again.
The next morning, Ondoy part II I thought when I turned the TV on.
The habagat tormented a lot of my countrymen again. I wanted to help them right away.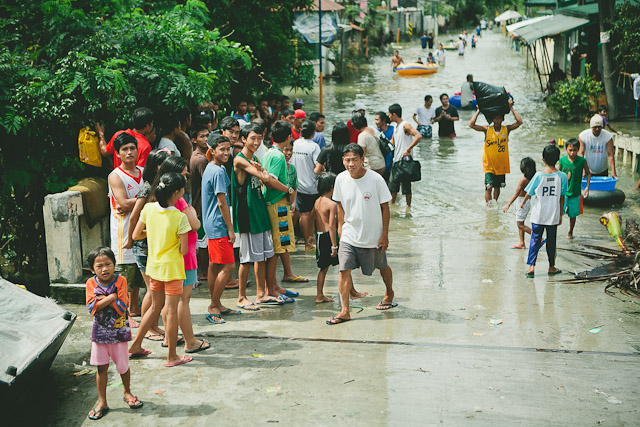 I felt the need to document the aftermath to show the world the condition that we were in.
I wanted to document people's faces in order for us to have an understanding of what the victims are going through.
Maybe this photo essay could be a reminder to the world that a lot of people are suffering and are in dire need.
We must help each other rebuild our country and help improve the lives of our countrymen.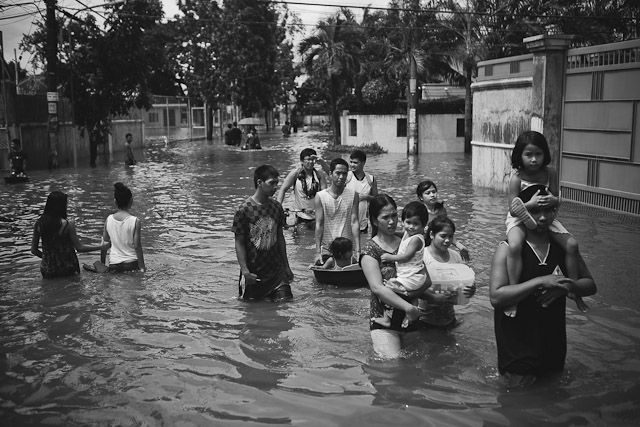 I hope that this photo essay will be also be a reminder of God's love for us. If you are reading this right now, let's take time to thank God for sparing us and shielding us from harm. Let us thank God for allowing us to live another day. Let's thank Him for the air we breathe and for the roof over our heads. Let's thank him for all the simple things in life that we just take for granted.
We are blessed tremendously. I think it's time we share our blessings. They really need help.
Let God's life in you be your only treasure.
With this and through this life you can achieve everything that is good
– Saint Pedro Poveda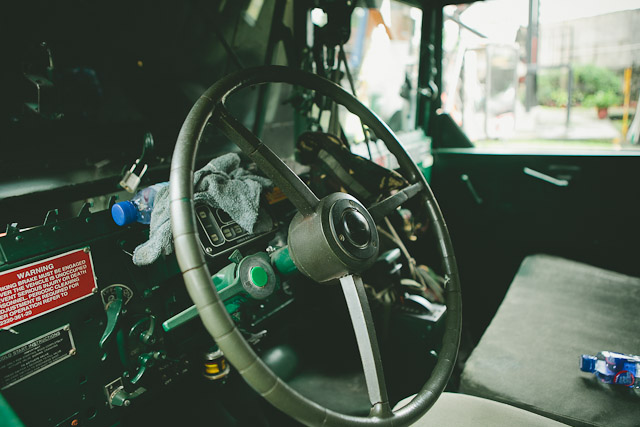 The soldiers were in good spirits and were ready to help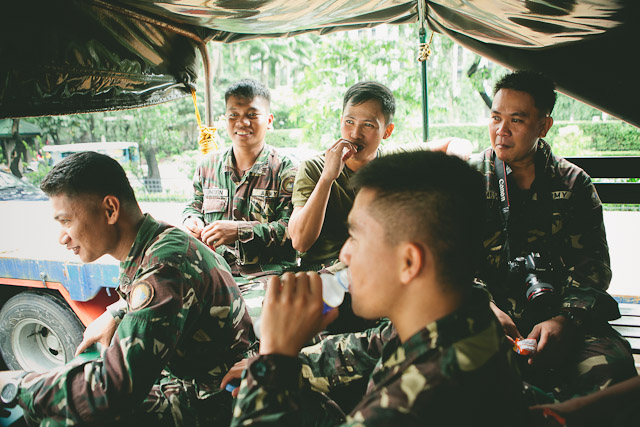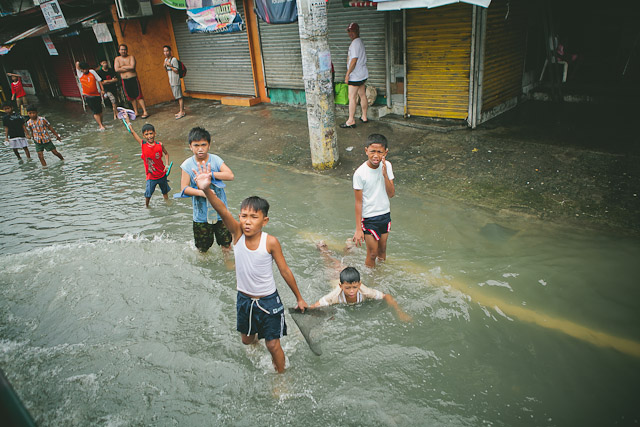 We were welcomed by kids begging for food. The flood was not so high in this area
and we were told that the flood had already gone down in this area.

A man was forced to close his sari-sari store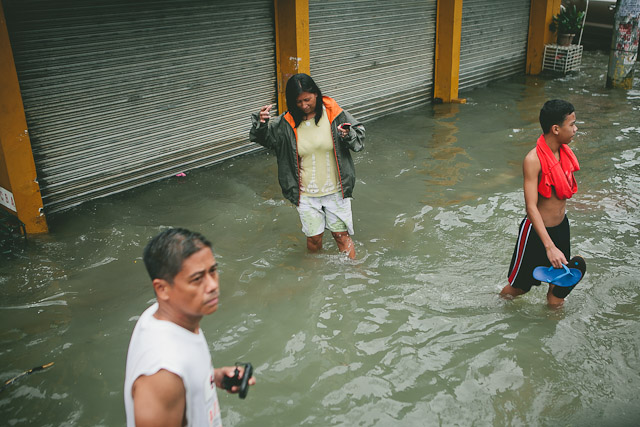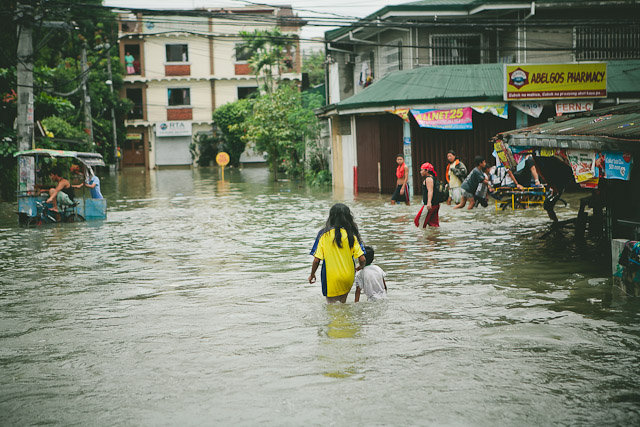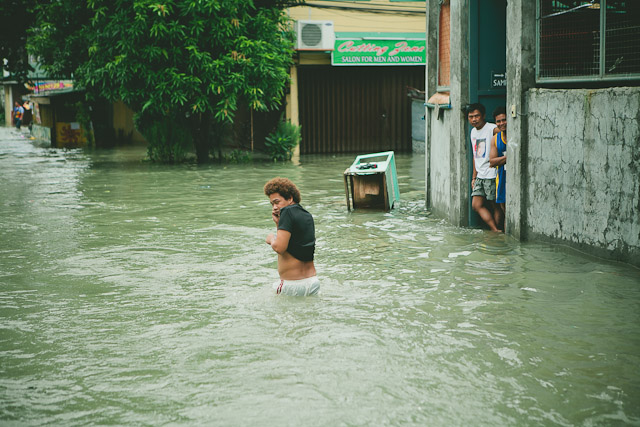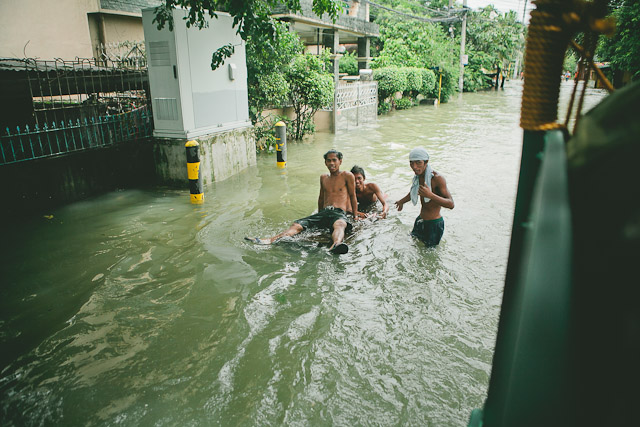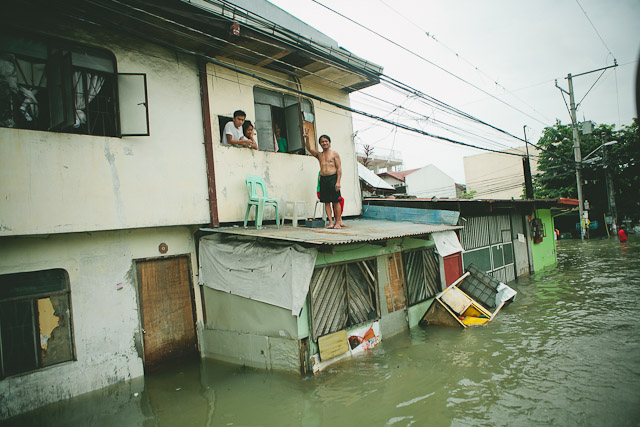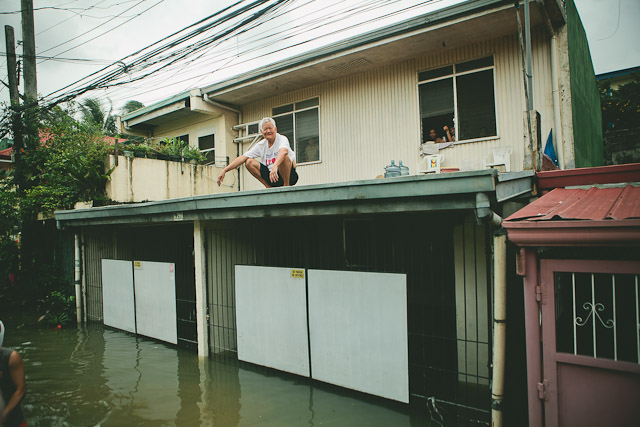 People were stuck in their houses and some had to go to their roof for safety.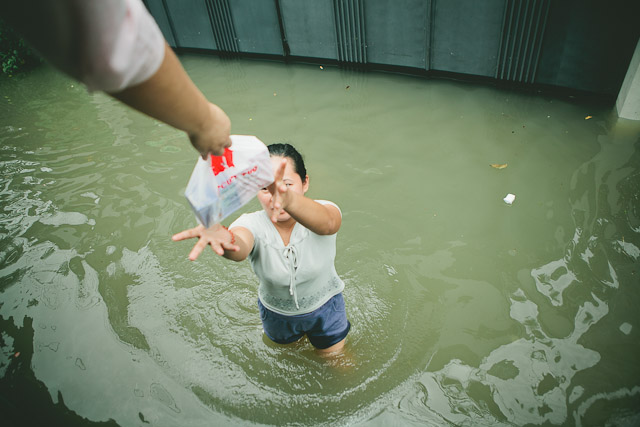 We had to personally deliver some medicines to the house of a Poveda teacher
who was affected by the flood.
The school had received news that the teacher's child was very ill.
We never had the chance to talk to the teacher though.
We were told by the people she was living with that she was attending to her ailing child
and couldn't come to see us outside.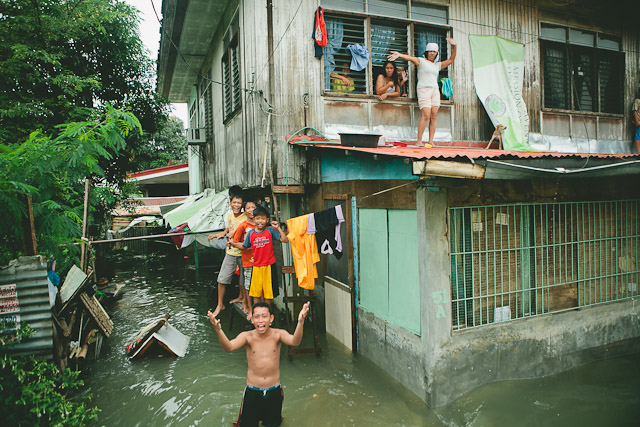 A boy screams in disbelief saying "Wala?!!!" He was asking for goods.
We were discouraged to give goods directly to people as it could cause disorder
and could be very harmful for the people as they push their way. Kids may even drown trying to battle their way to our truck. We told them to go to their parishes instead to get the relief goods.
Some were aggravated by this. Some were thankful.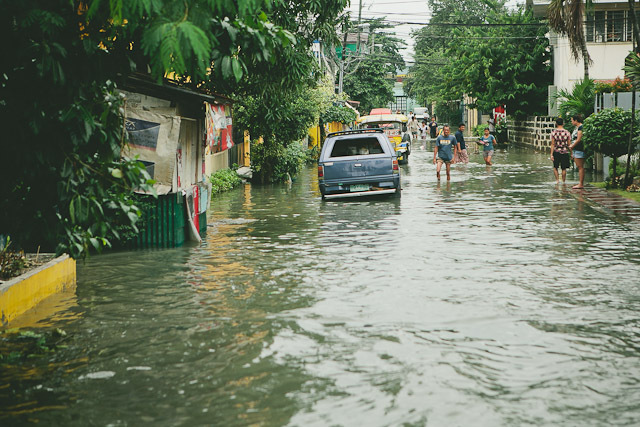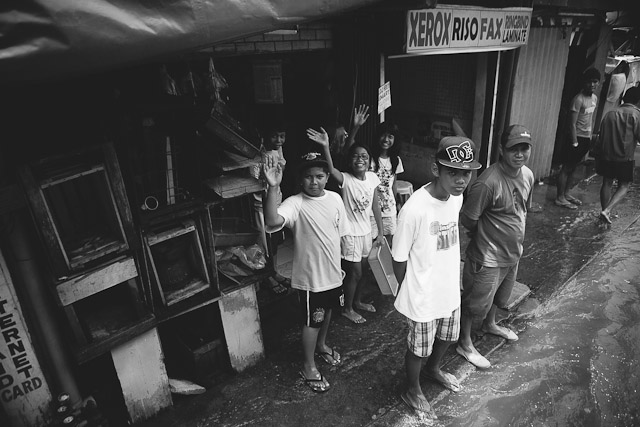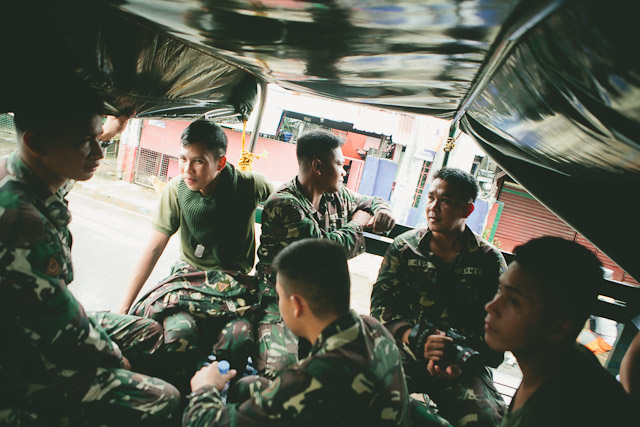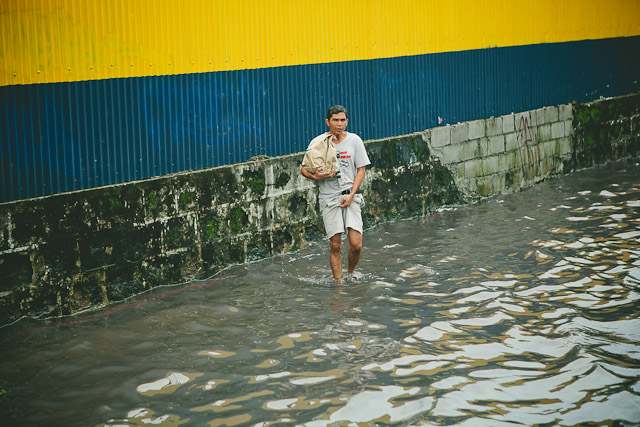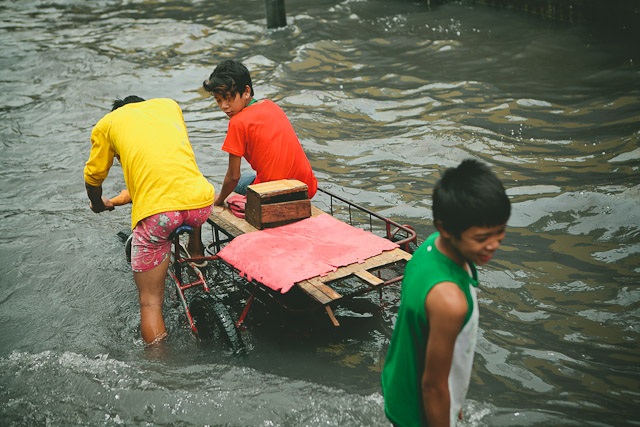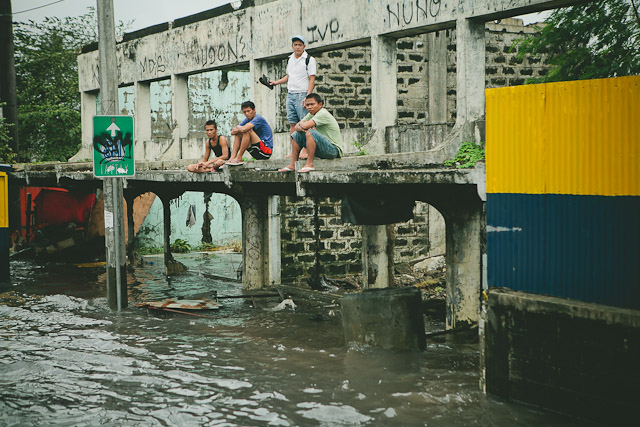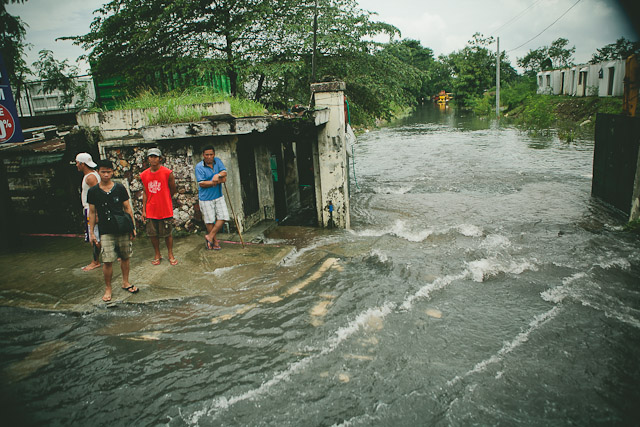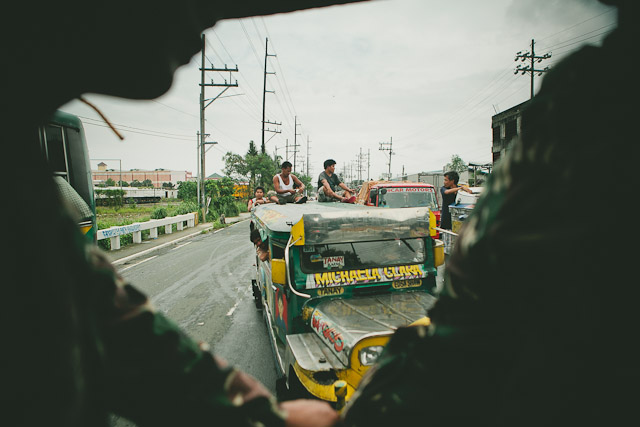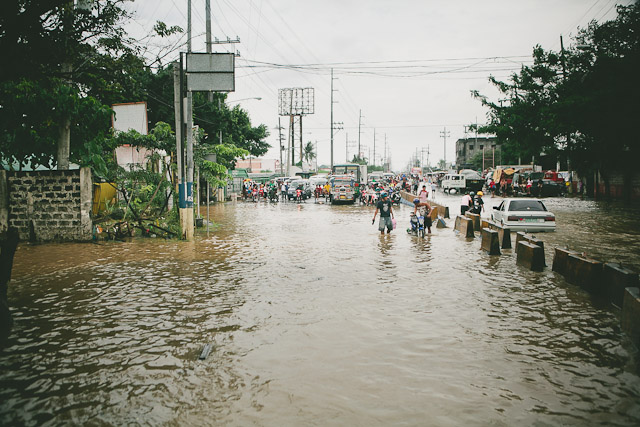 Cars were stranded and could not proceed any further due to the flood.
This caused the roads heavy traffic. It also affected the relief operation
because the relief goods could not be transported to their respective drop off areas.

Filipinos still find ways to smile despite of the calamity. I love this about Filipinos.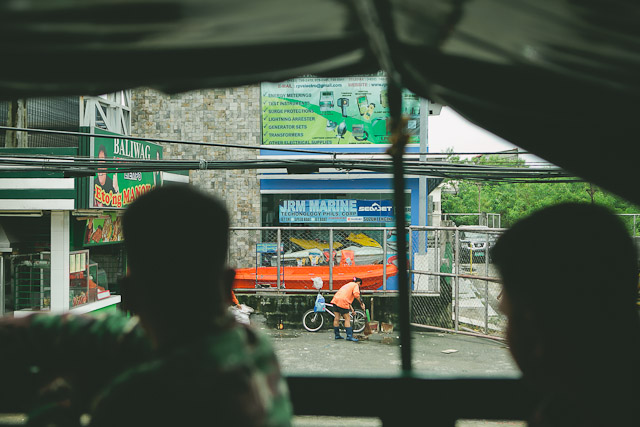 I found it ironic that there was a boat and a jetski on display for
everyone to see. It was sad to see because they could have been utilized
and used for the relief operations. A lot of people could have really benefited
from it but they were just there for display.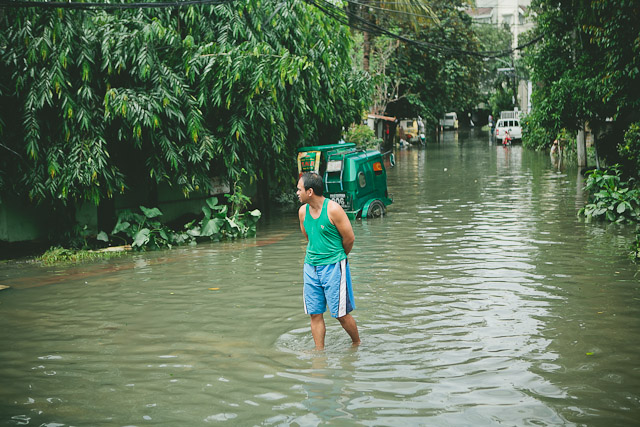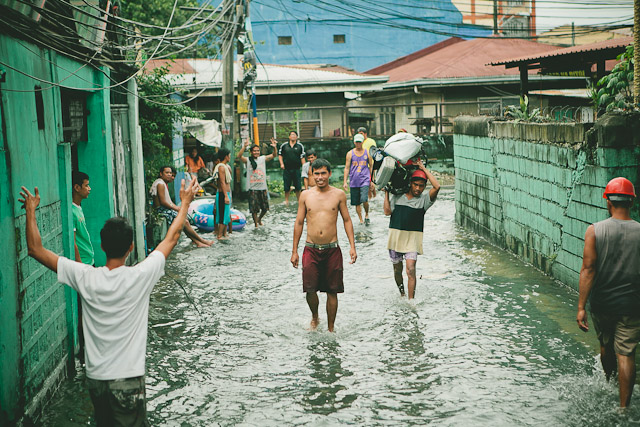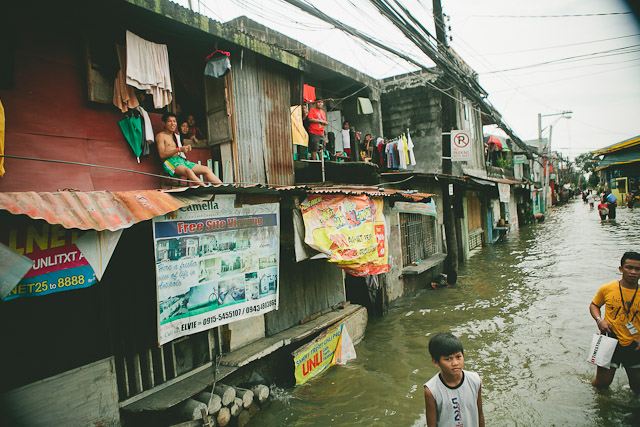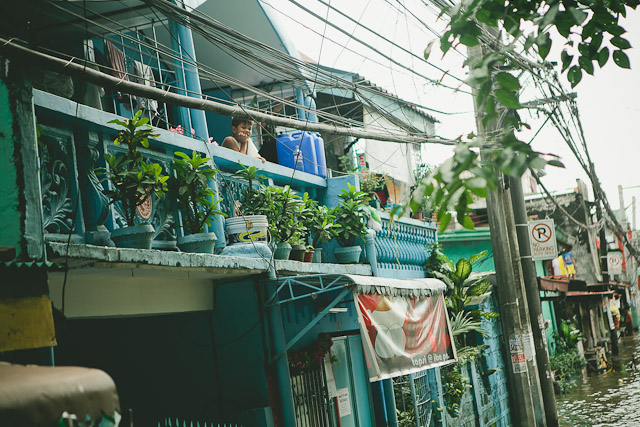 A teenager gives me the F*CK YOU sign as we were giving out relief goods
to the flooded victims. I gave him the CROSS back to give him some Jesus in me
as my own way of humble retaliation. This is a common scenario once you go in
the flooded areas name calling and all other profanities thrown at you
and whatever. I can't blame those voicing out their frustrations and anger.
They are hungry, cold and they need help.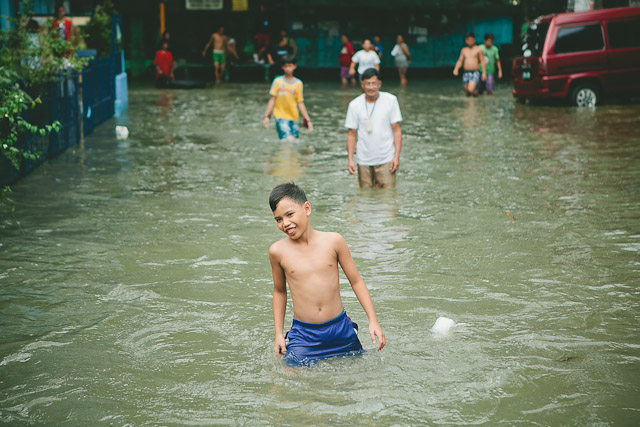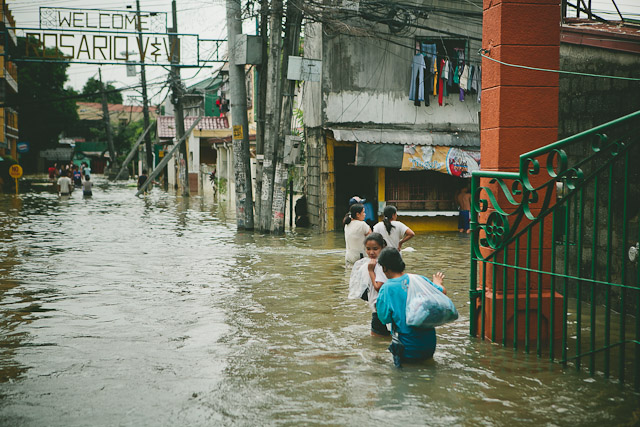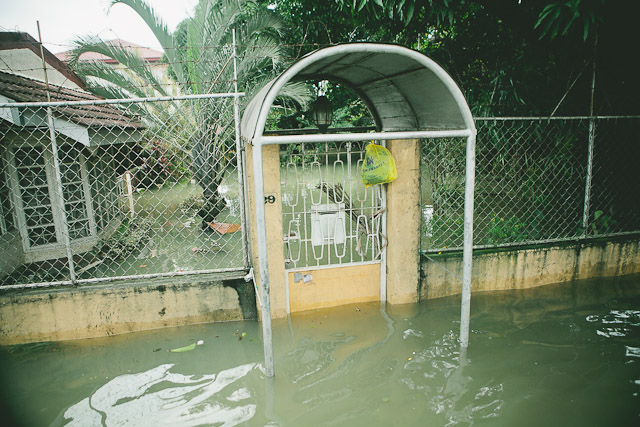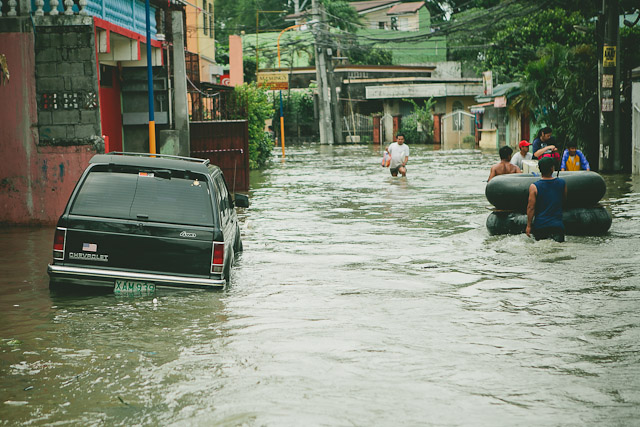 Schools were flooded and it pains me everytime I see this image.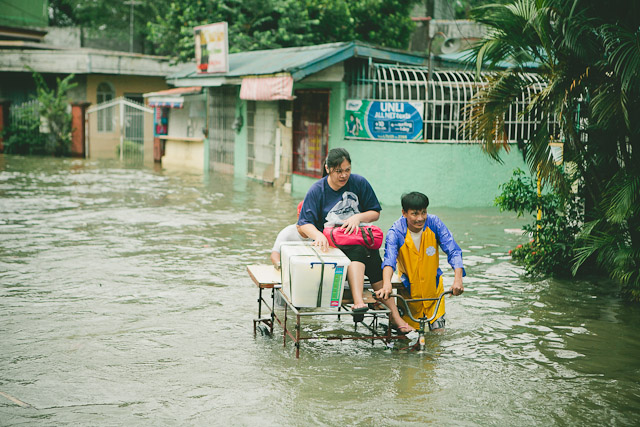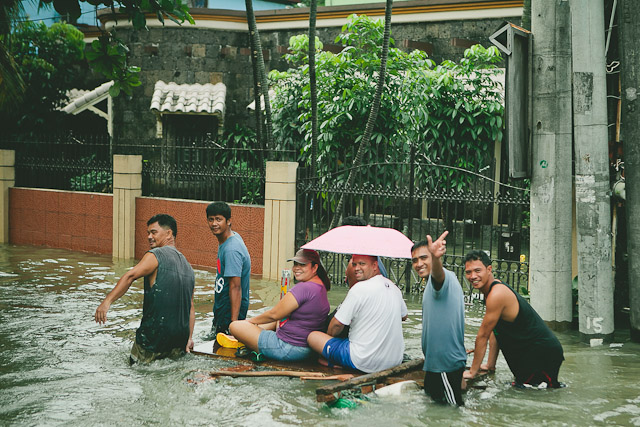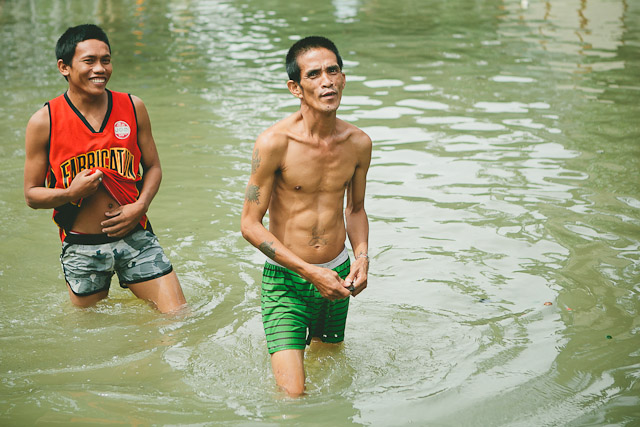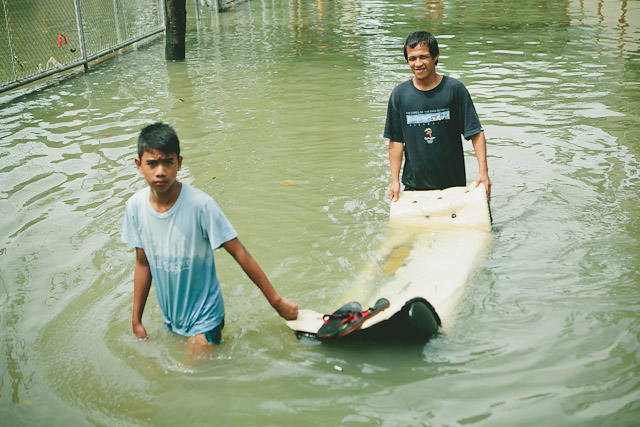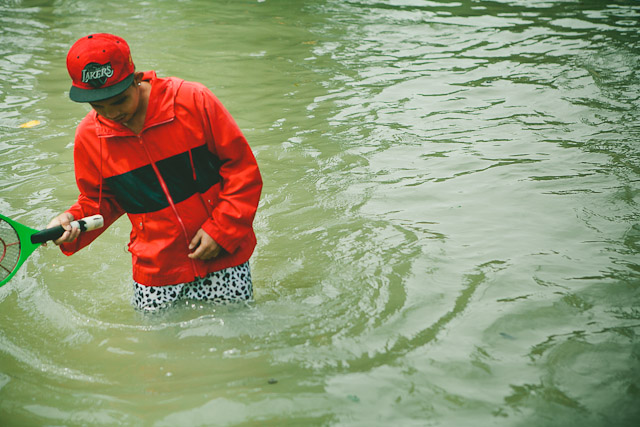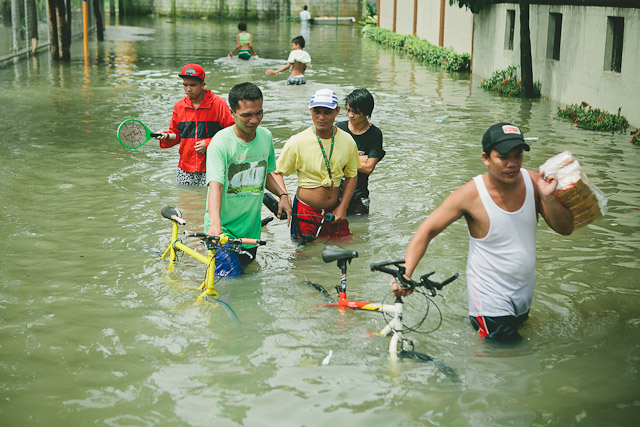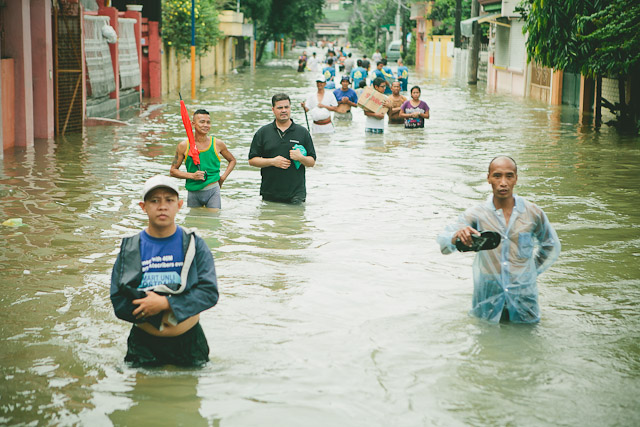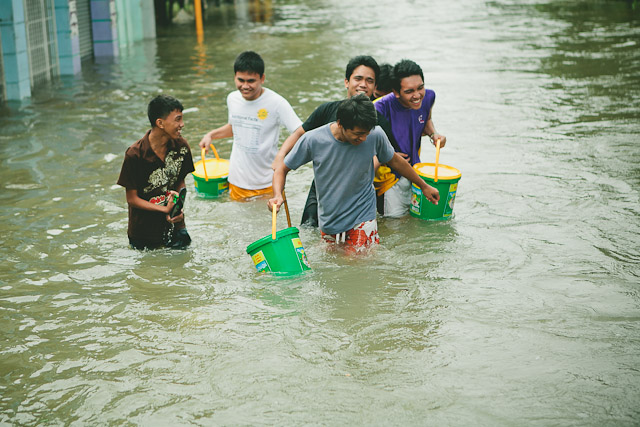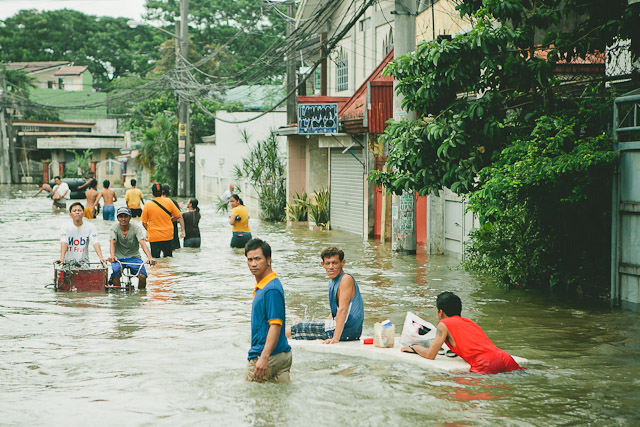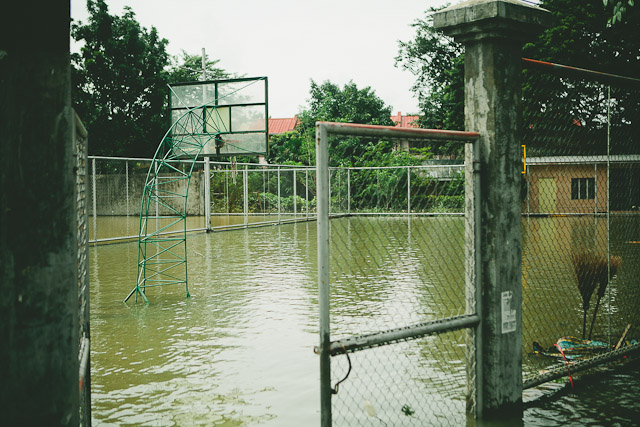 Baskteball courts became swimming pools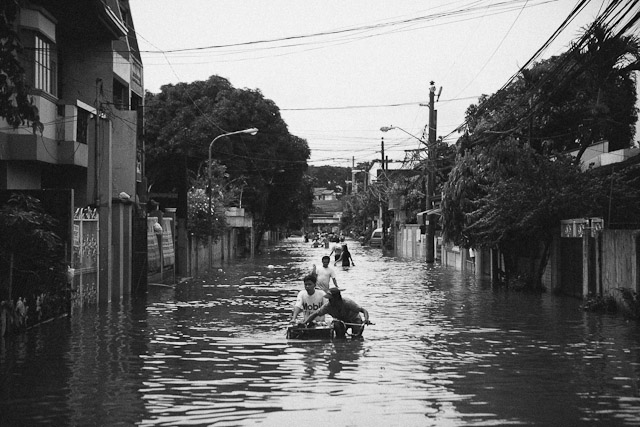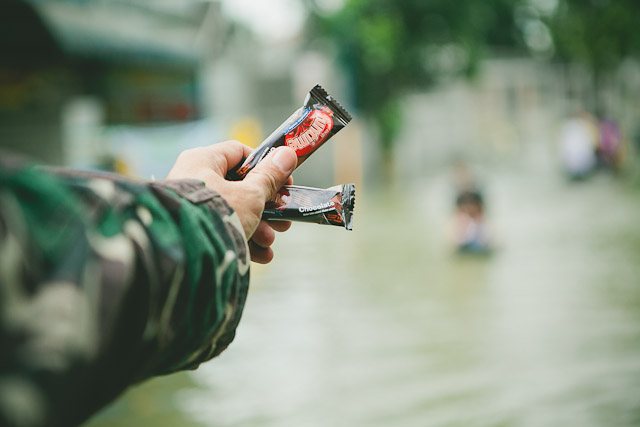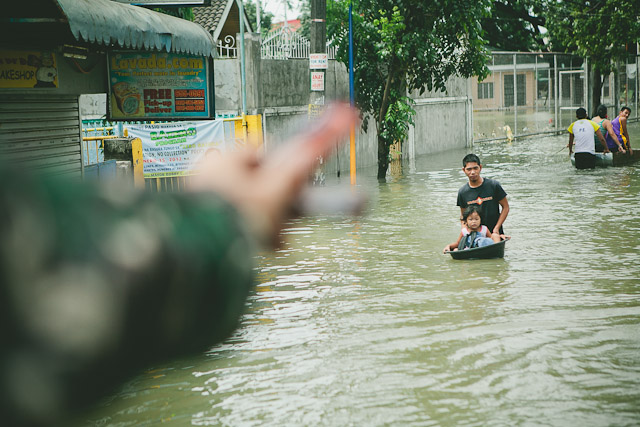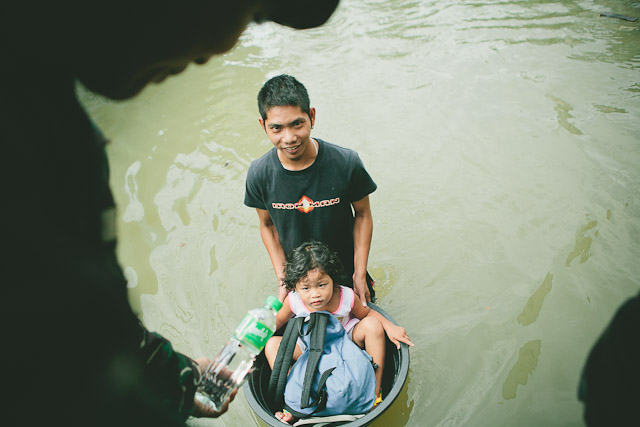 A soldier gives his own bottle of water to a young girl.
It was discouraged to give goods directly from the truck as it can bring disorder and a lot of people could get hurt
but there weren't a lot of people around to see this random act of kindness and there must have been something about the little girl that made the soldier give his share of water. I think the soldier was reminded of his own daughter.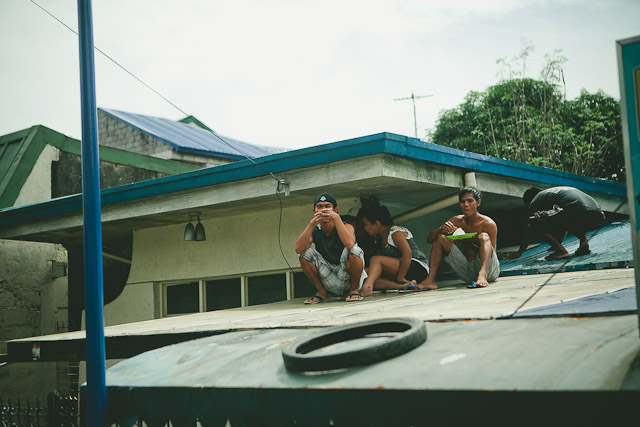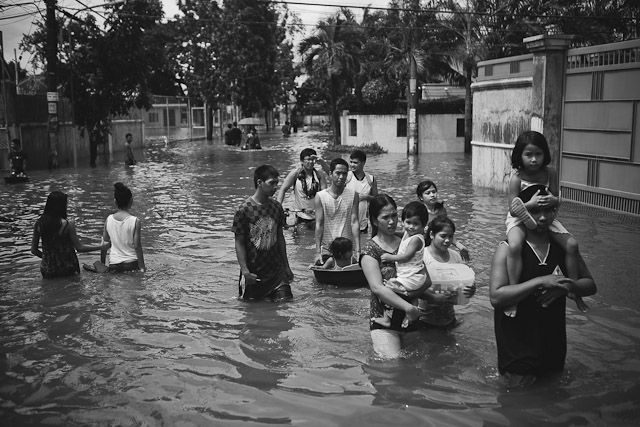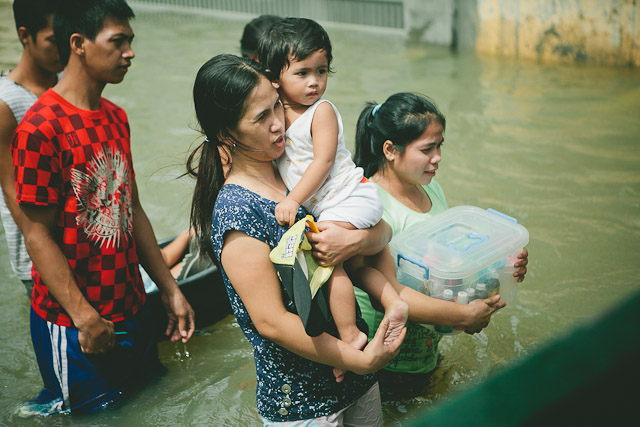 A mother carries her toddler through the floods.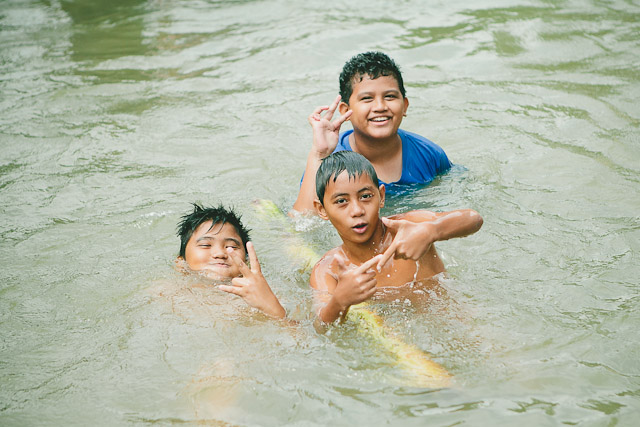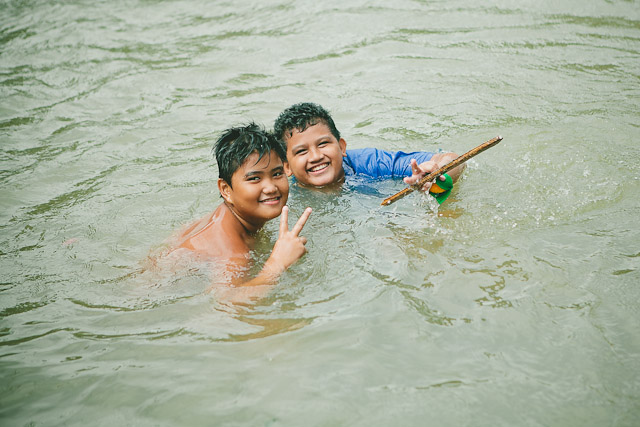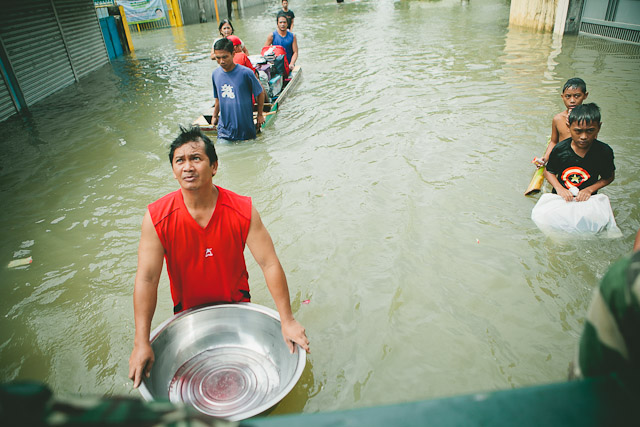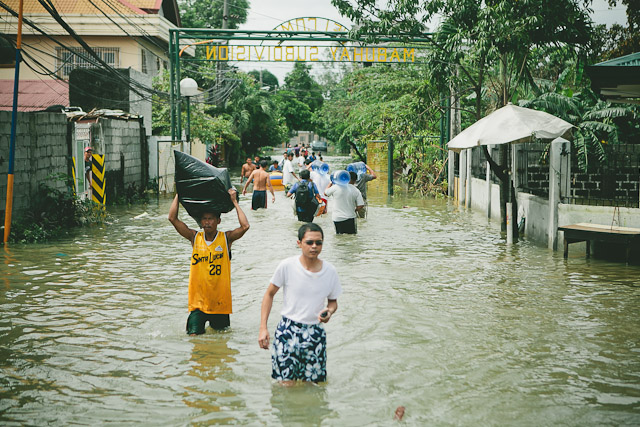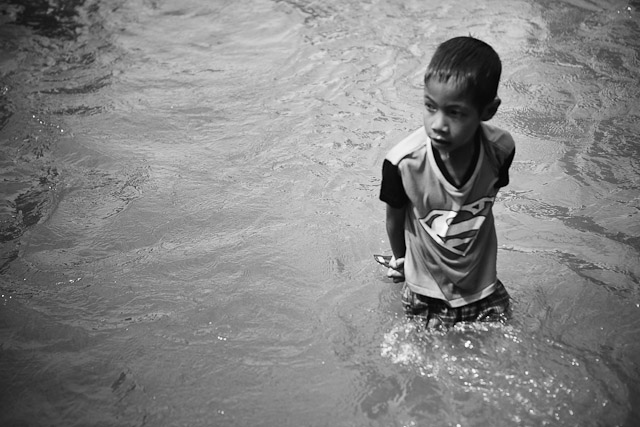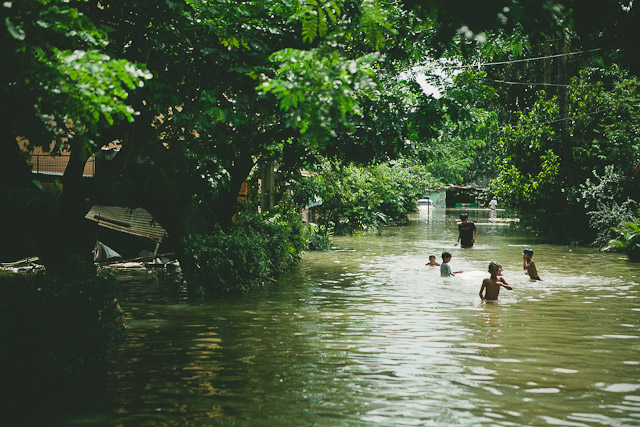 The children do not realize how dirty and dangerous swimming from the flooded water could be.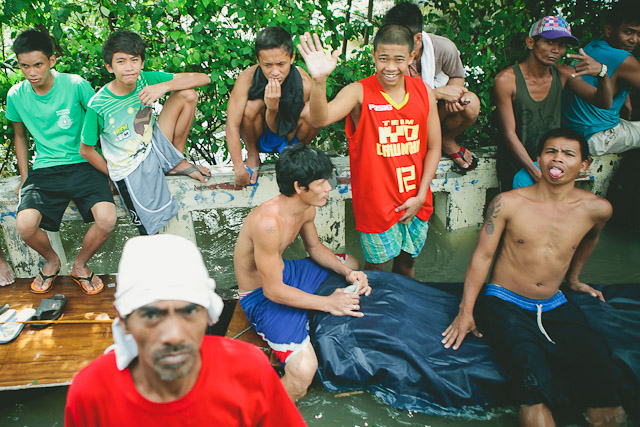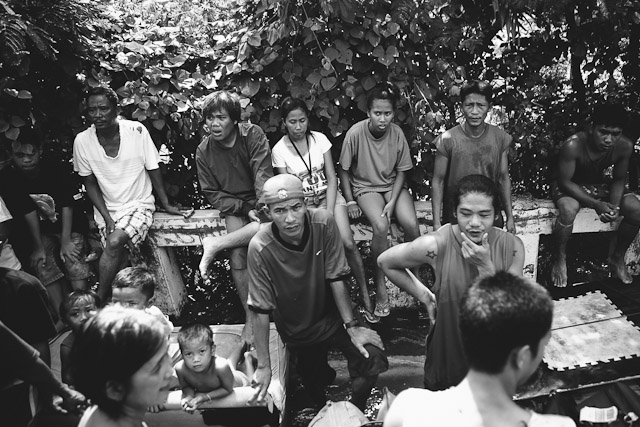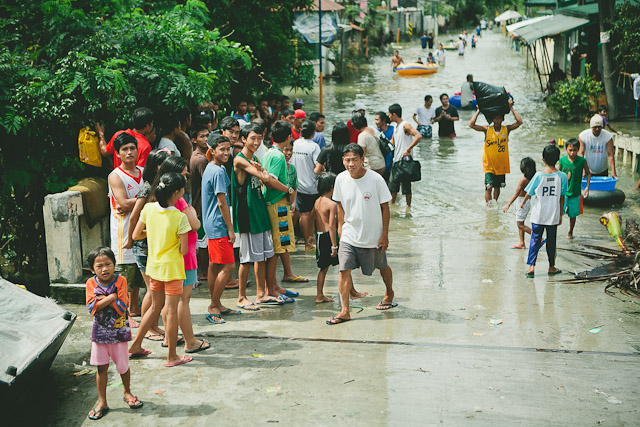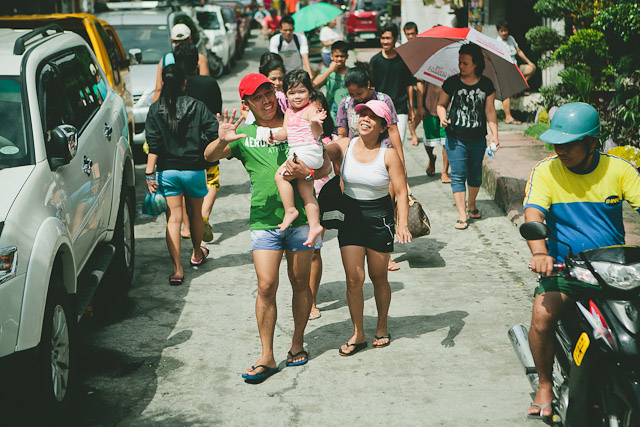 A little girl smiles and waves at us after receiving chocolate from the soldiers.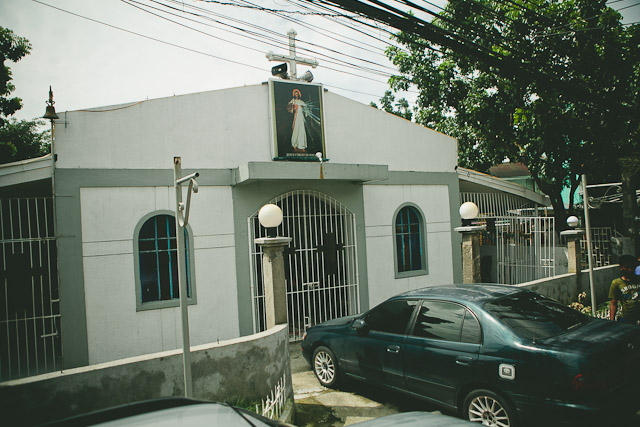 A church was spared from the flood.
Everything else in this area got flooded except this Church.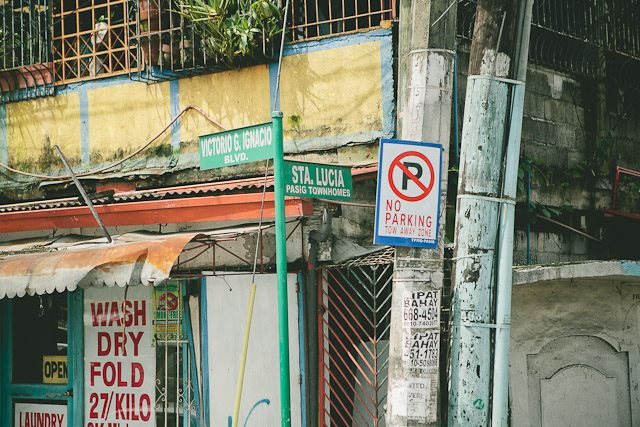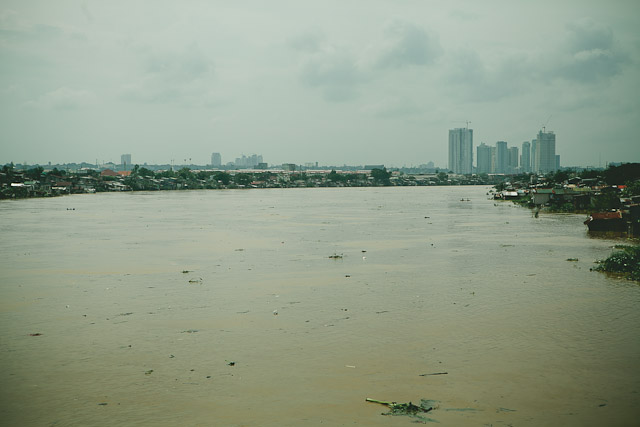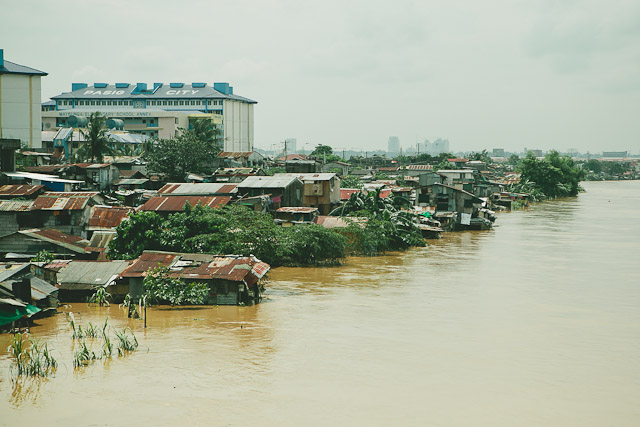 It's crazy to think anyone would put their lives in danger by living in the waterways. The government must find a way to relocate these inhabitants somewhere safe.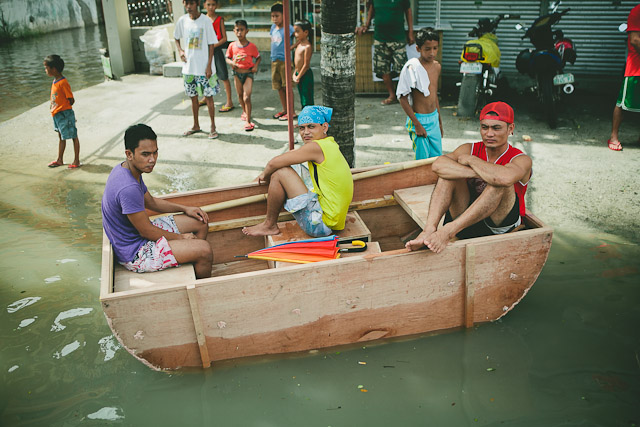 A Filipino made bangka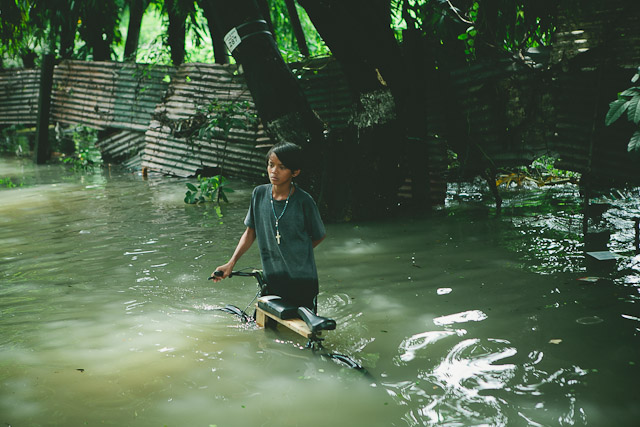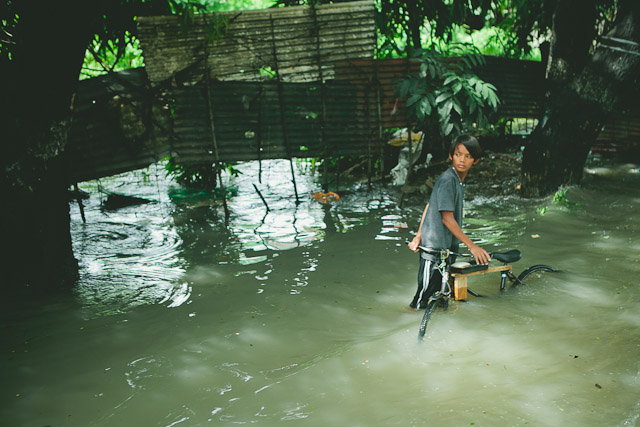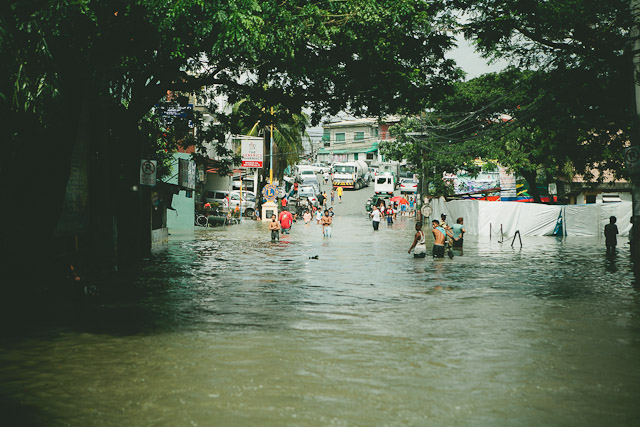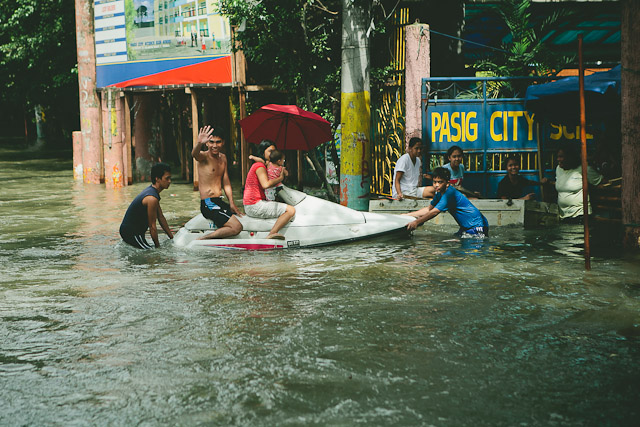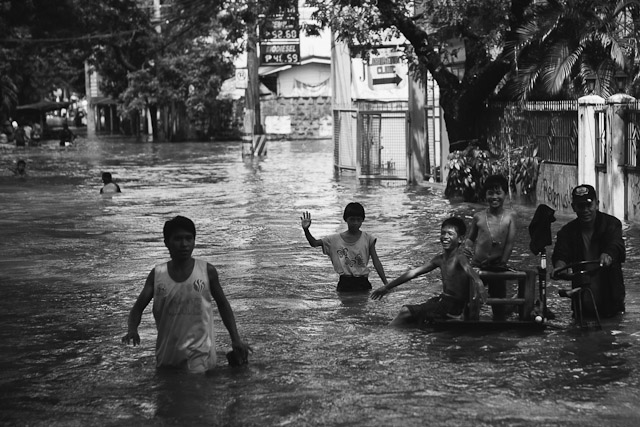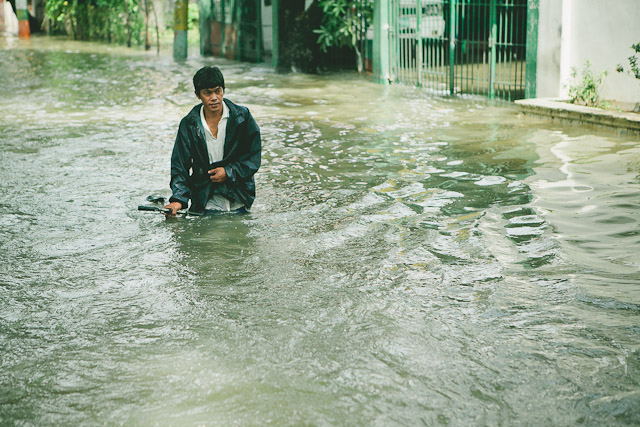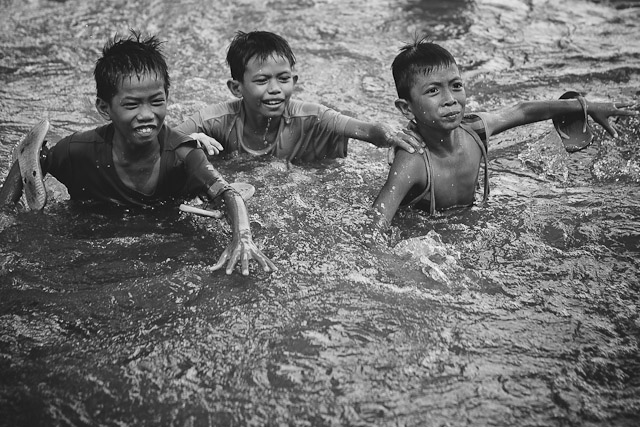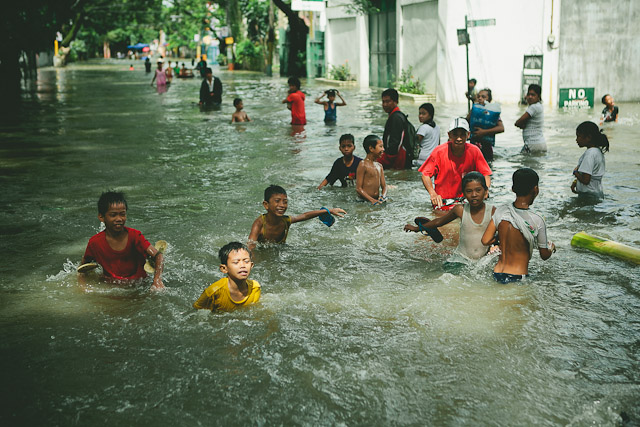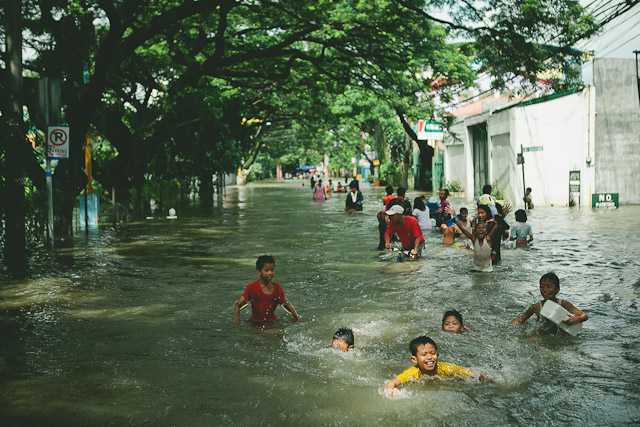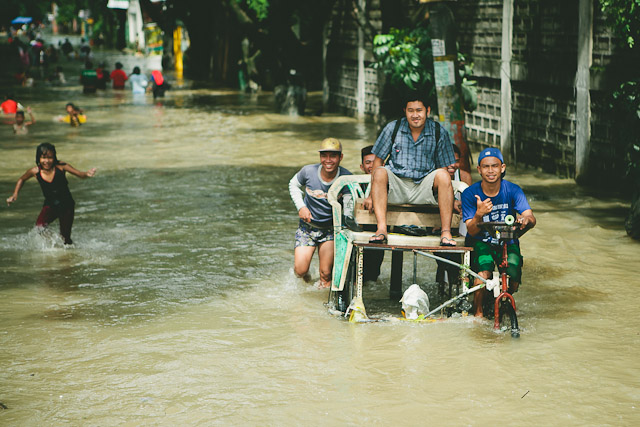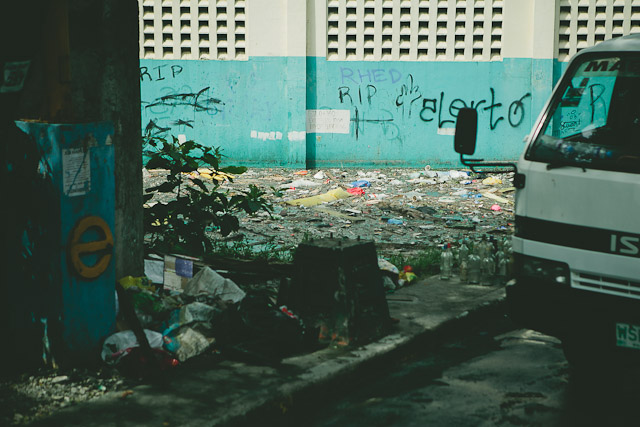 Here's a photo of a creek full of garbage. It's sad and very troubling to see something like this.
And we wonder why our cities turned into oceans.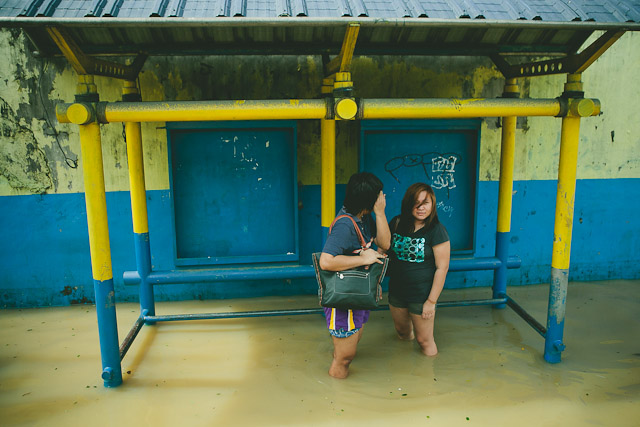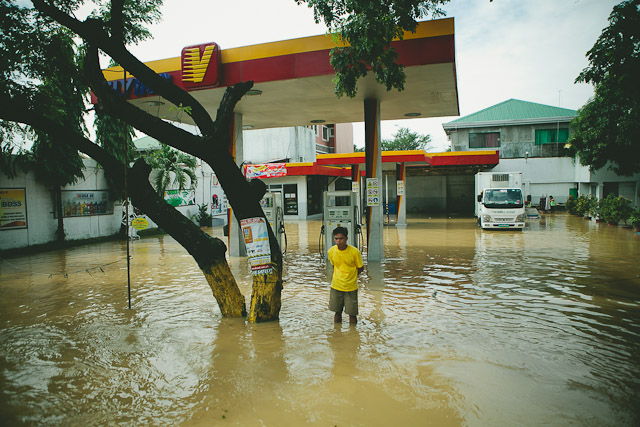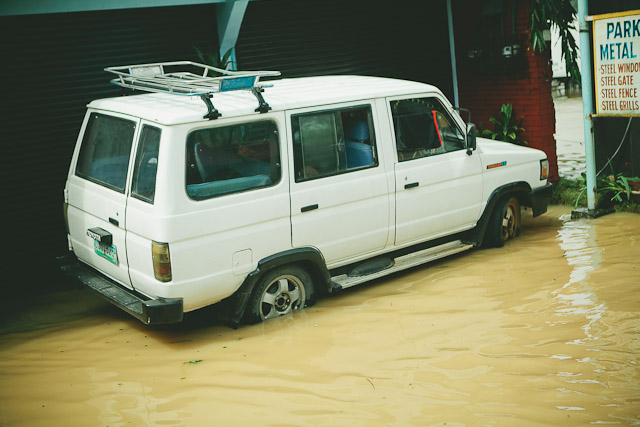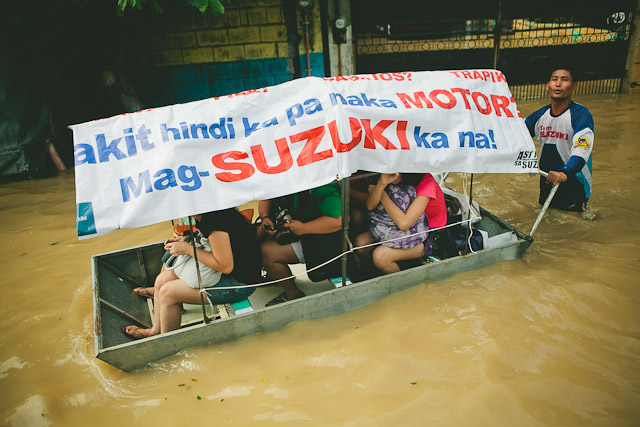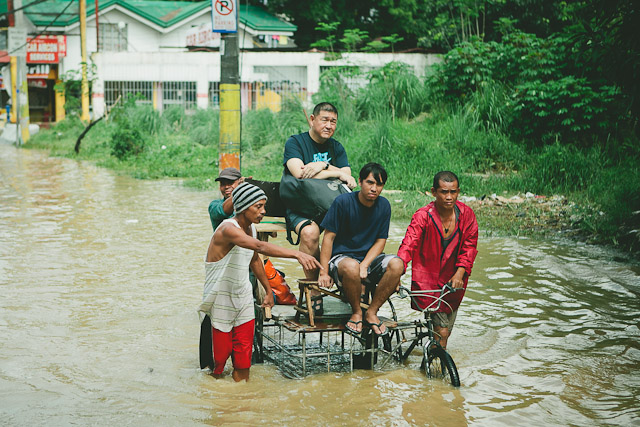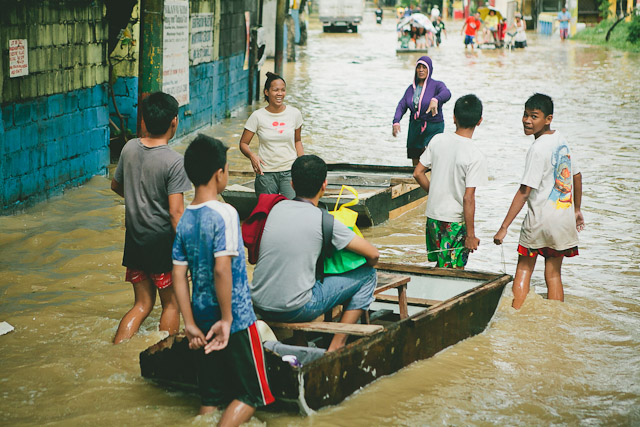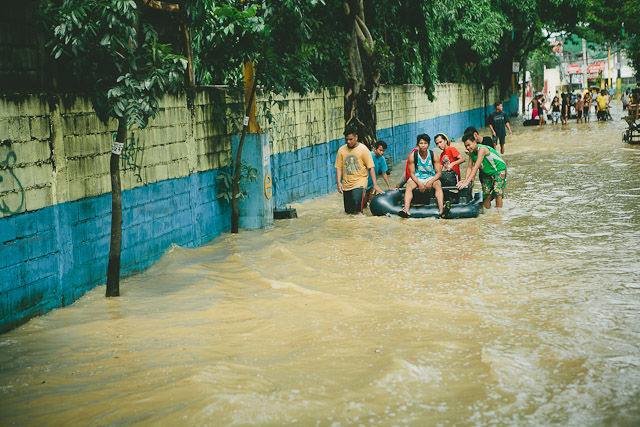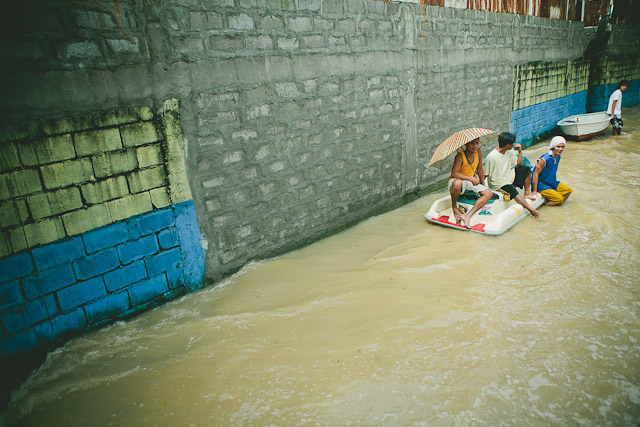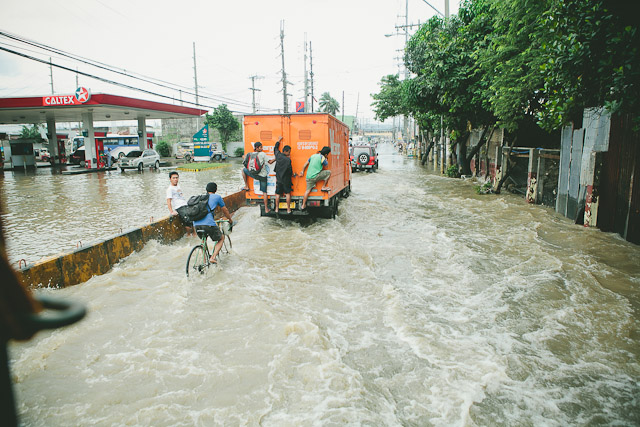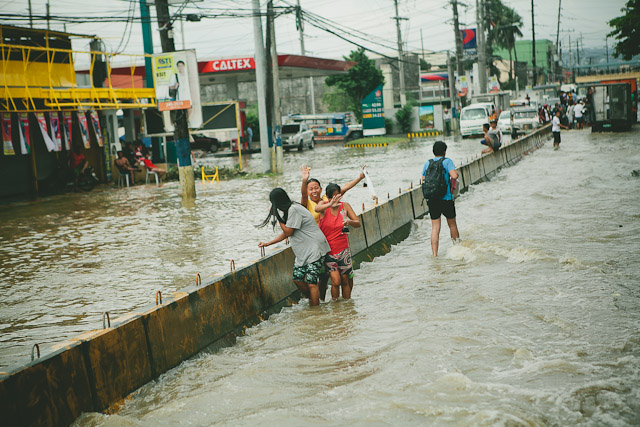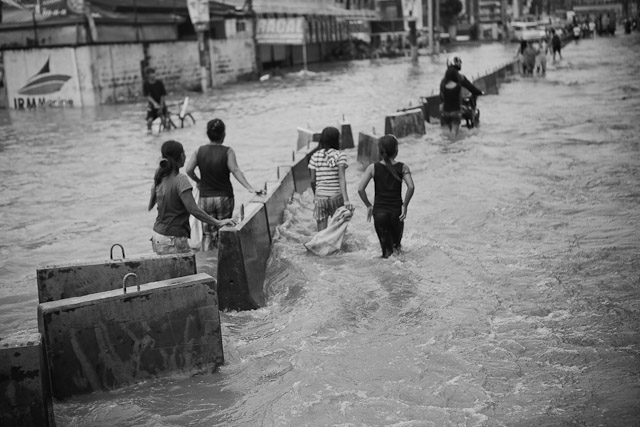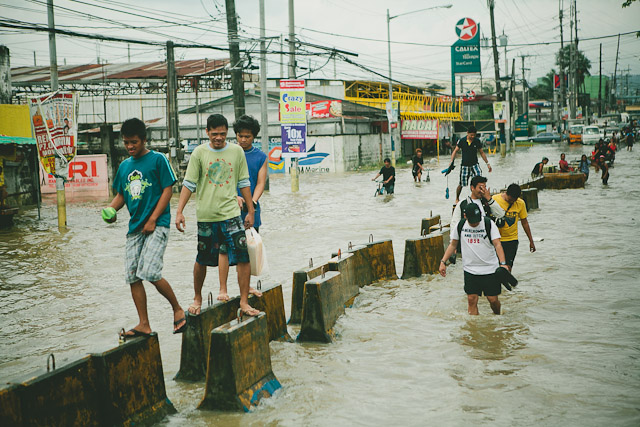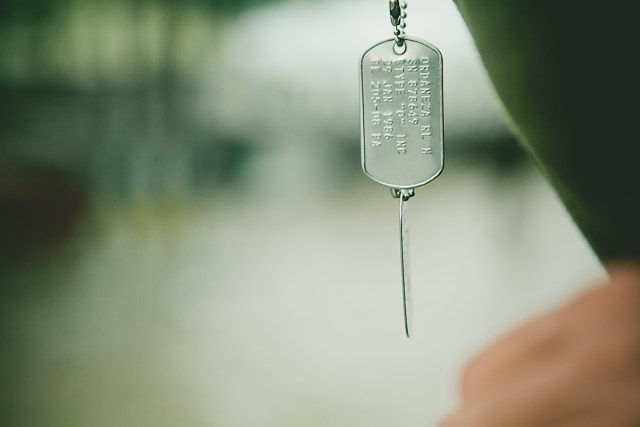 A soldiers dog tag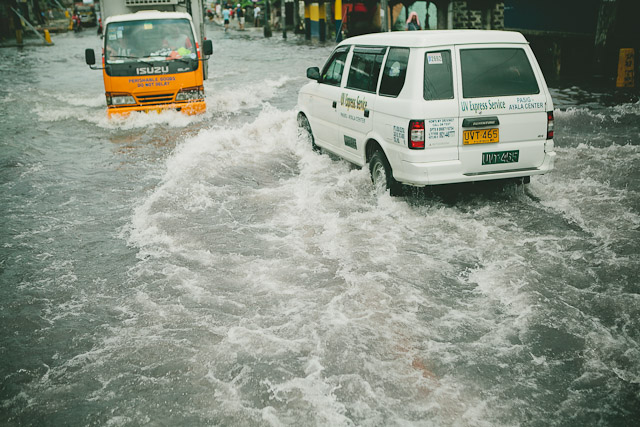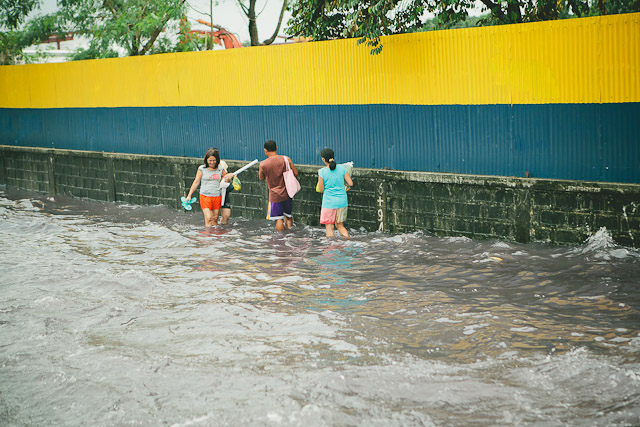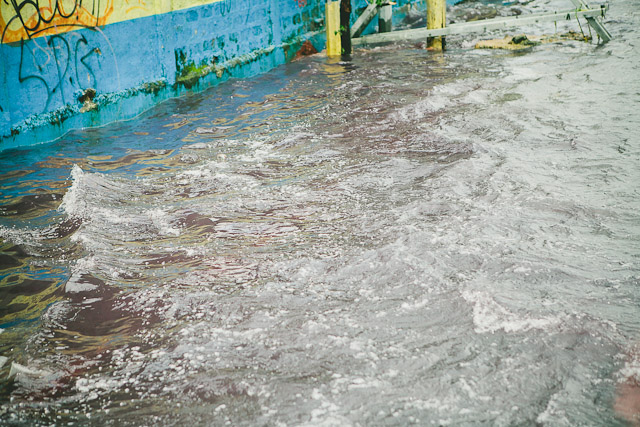 flood + gasoline = disaster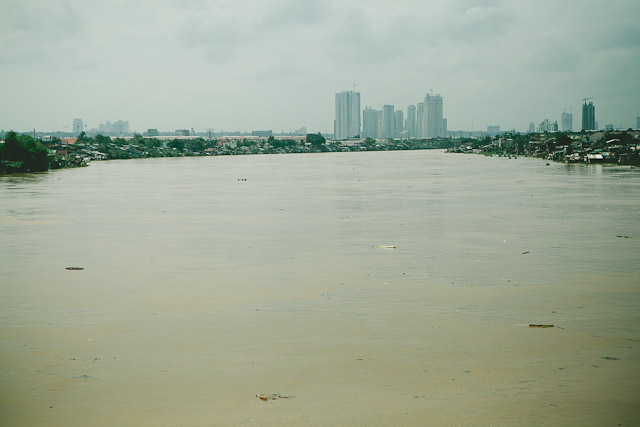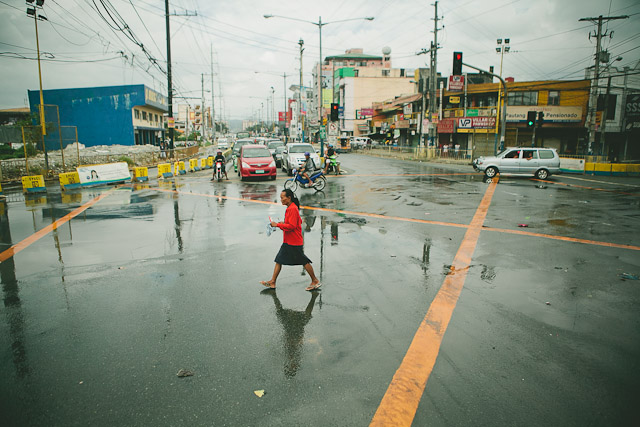 A lady walks in the middle of the street. She looked very disoriented.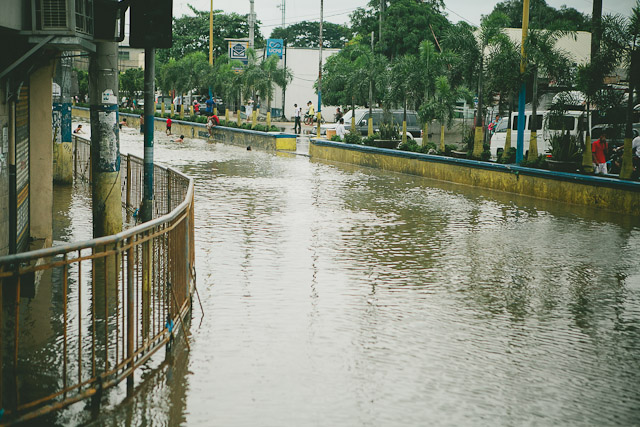 Unbelievable to see kids swimming in this condition. The soldiers kept on reminding them not to drink the water.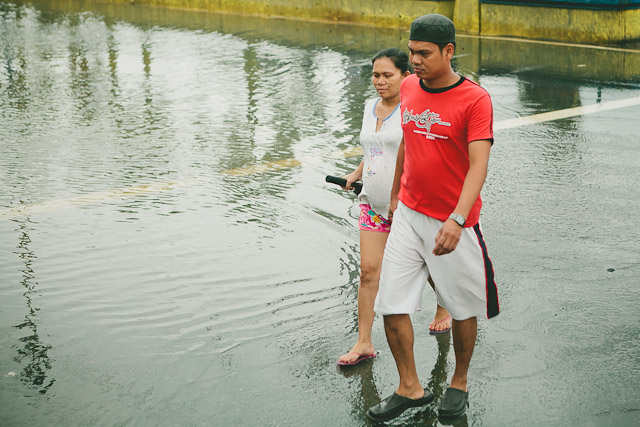 A pregnant lady walking the streets of Pasig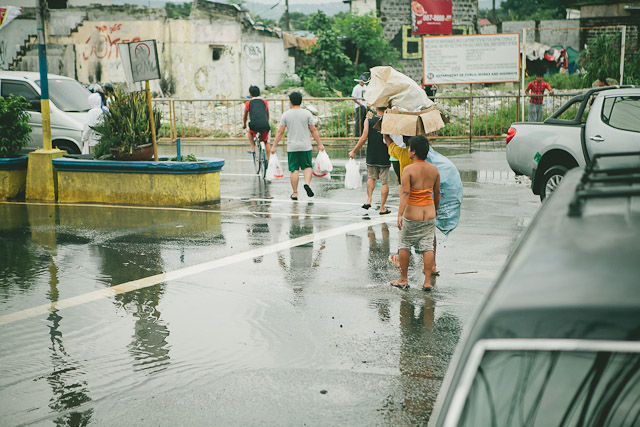 A lady casually walking with her shorts down.

Business as usual for some of the people in the market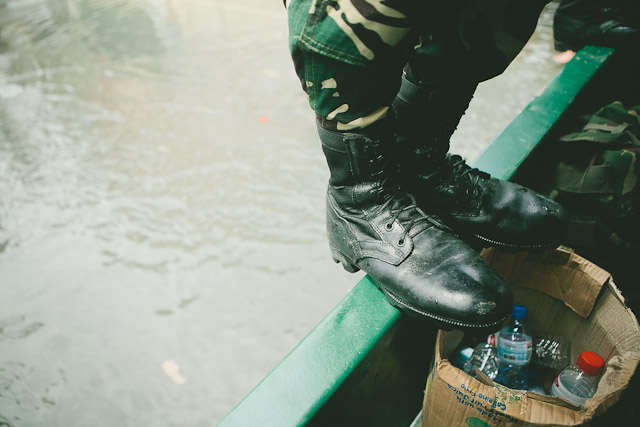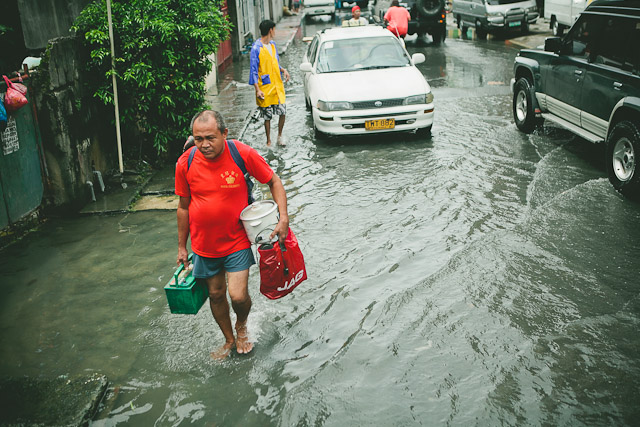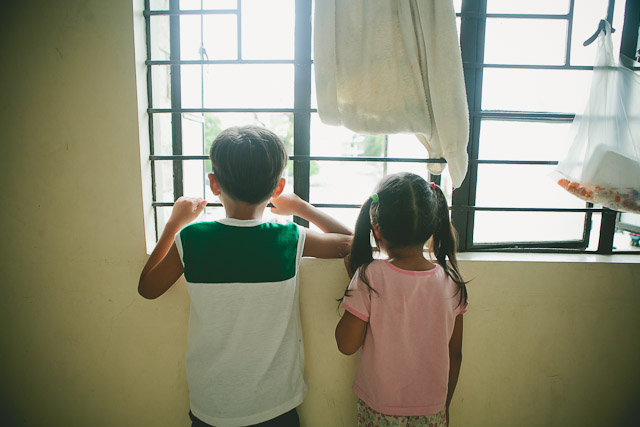 Kids looking out their windows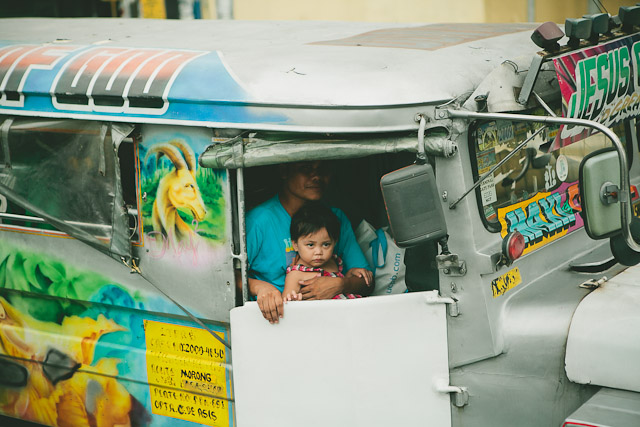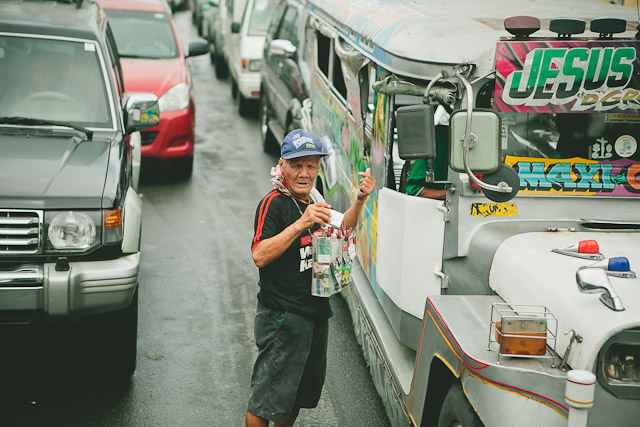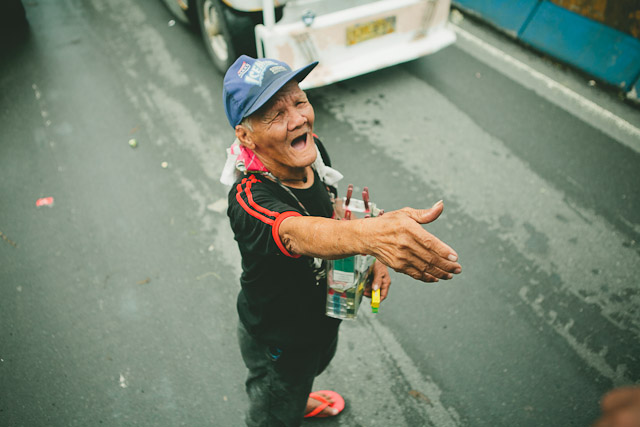 A cigarette vendor shakes a soldiers hand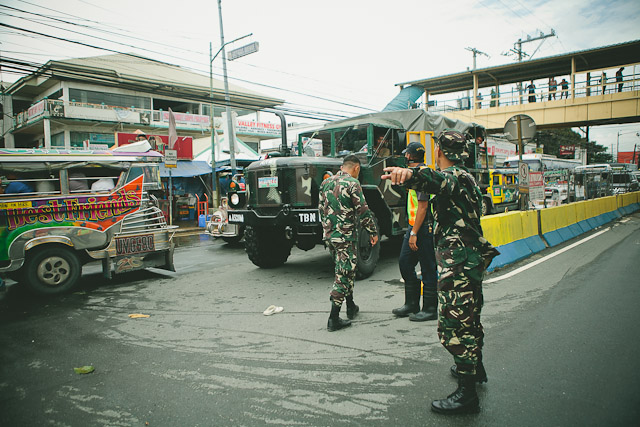 The traffic was so horrible that the military had to use the other
incoming lane in order to expedite the relief operation.
Some people we talked to hadn't eaten anything for days.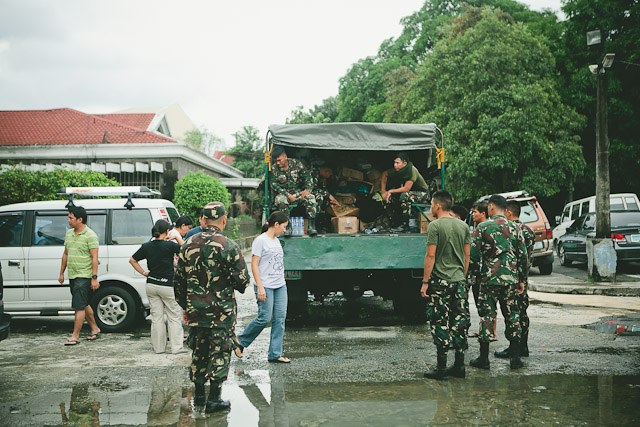 We dropped half of our stock to this parish. The church would then have the task to distribute the goods to their parishioners.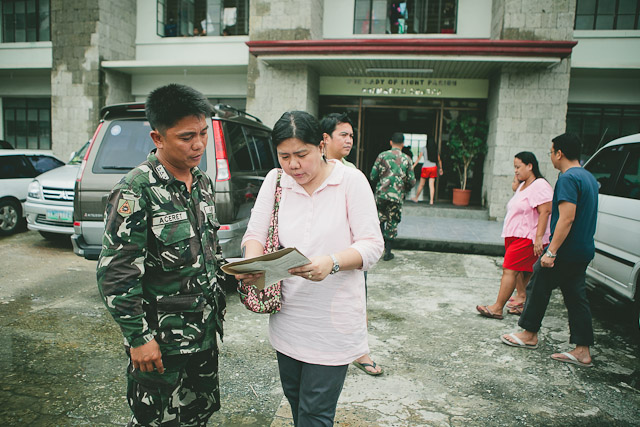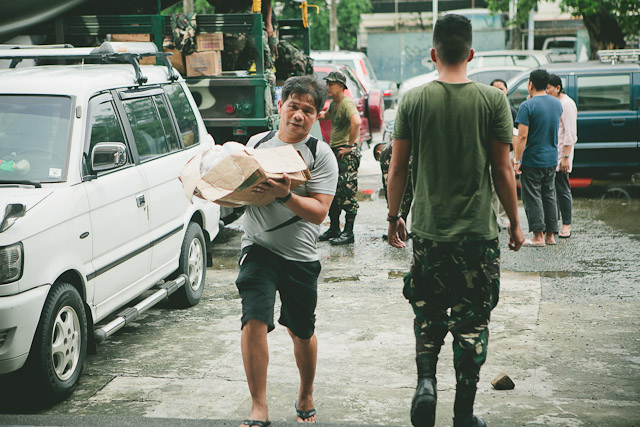 The reason why Poveda had to bring the relief goods to a church was that relief goods were transported to a barangay hall the previous night. I won't mention the exact place where it was dropped off because there were reports from the citizens of the barangay that they were not able to receive any relief goods at all. I don't want to judge but I was told that there was a chance that the relief goods Poveda prepared were repackaged and given to the staff of the barangay hall instead. I don't know how true this story is but the idea of cheating others for relief goods is sickening to me. I also find it amusing that some politicians would use this calamity as a way to campaign themselves by putting their photos in the relief goods. But whatever. It's not a big deal. To each his own I guess. But this is the sad reality of what goes on in our country. Poveda from then on decided not to give it through the barangay halls and give it to the Churches instead.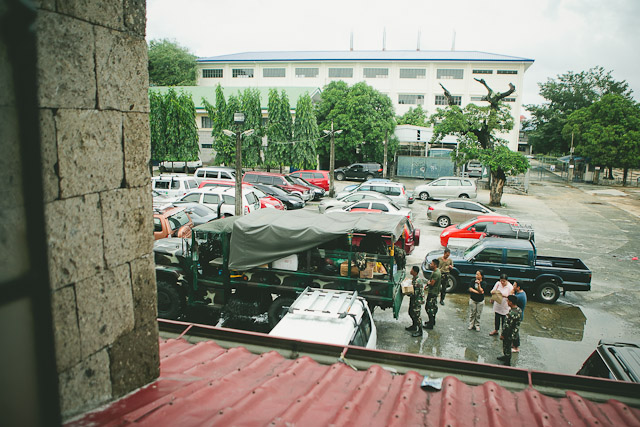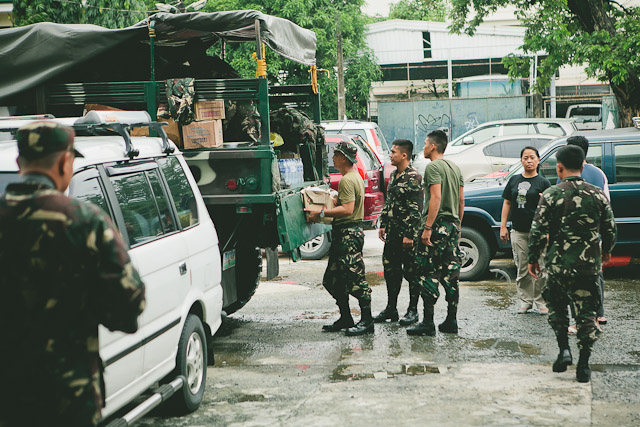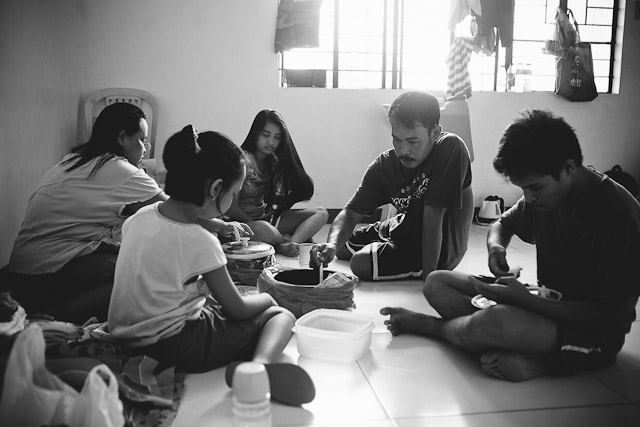 I visited an evacuation center and talked to a family and found them sitting on the floor eating adobo.
They offered me some but I declined.
I saw that their food was not even enough for 3 people but they managed to share it between 8 of them.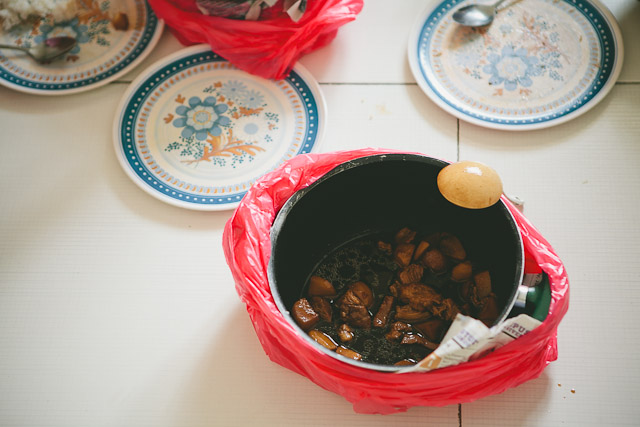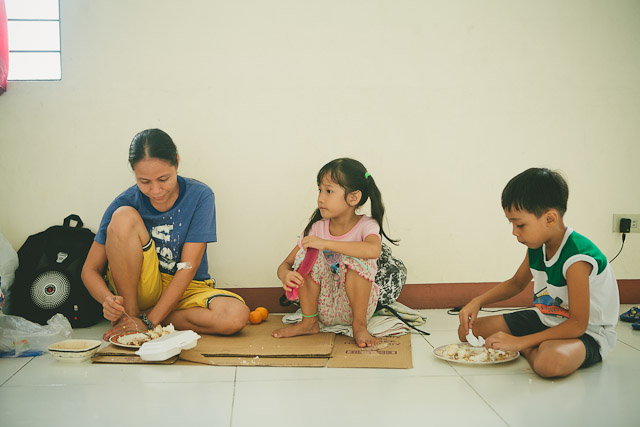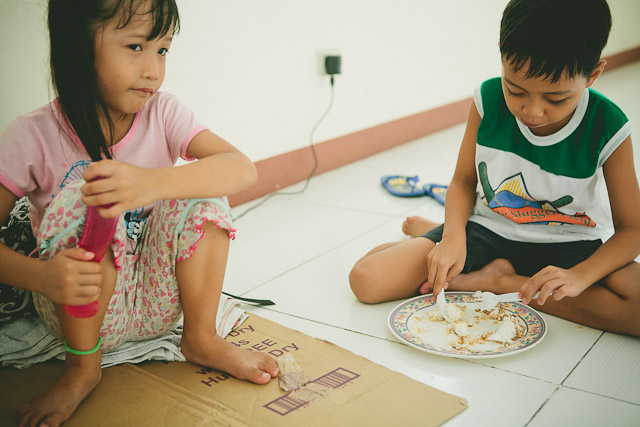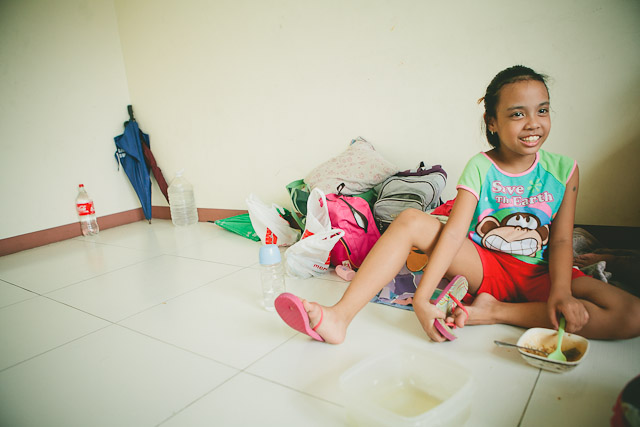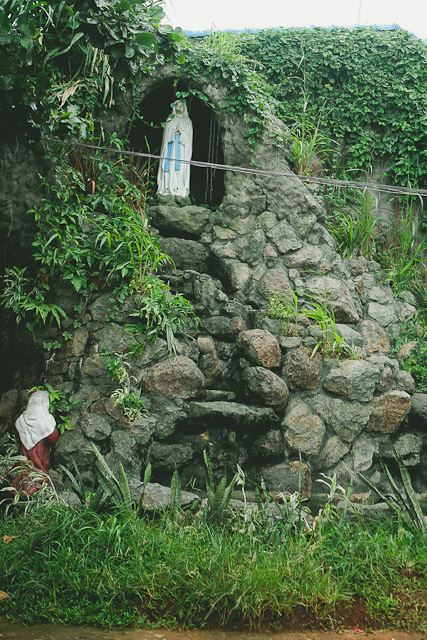 Mama mary's grotto was left untouched and was spared from the flood.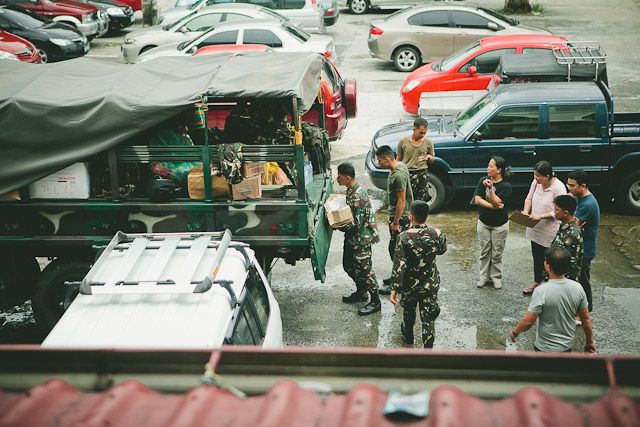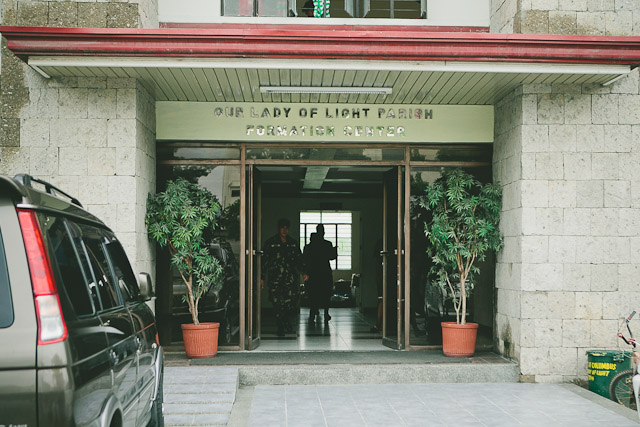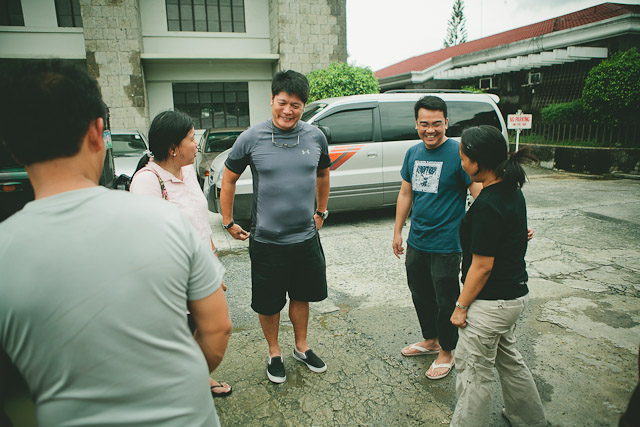 The priests were very grateful for the relief goods.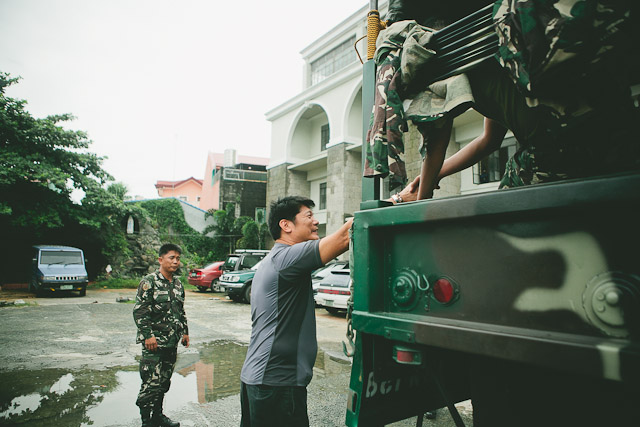 Monsignor thanked the Poveda staff and the soldiers for their service.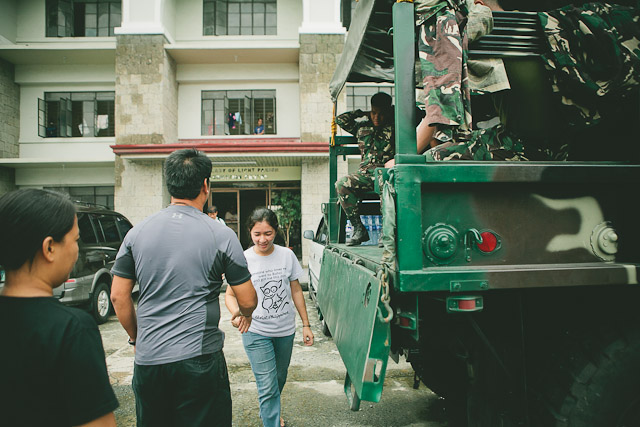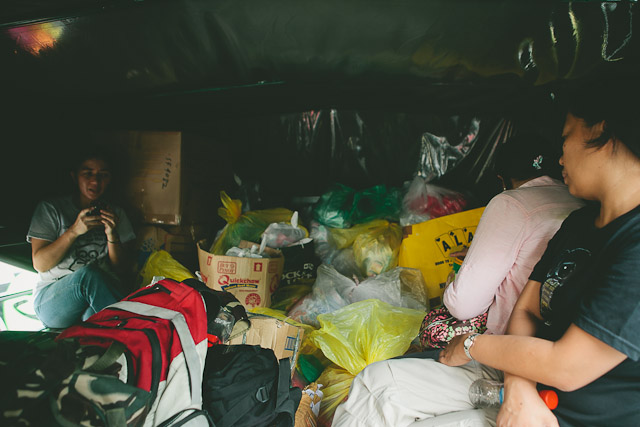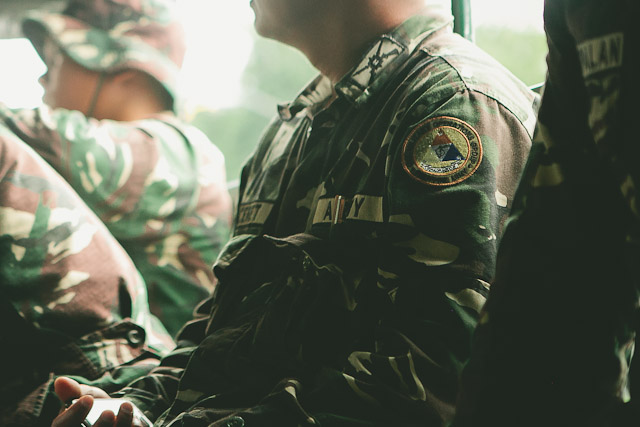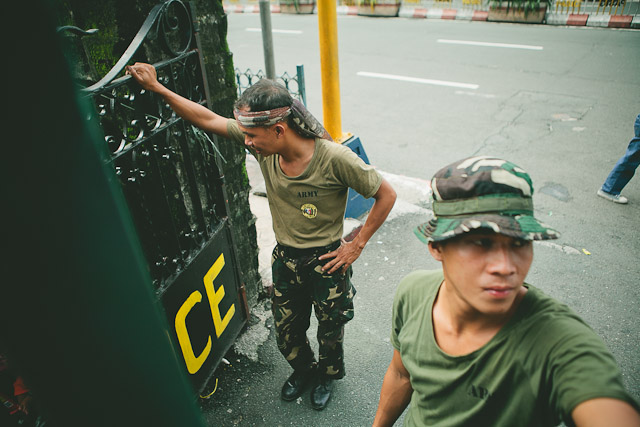 The soldiers getting a breather.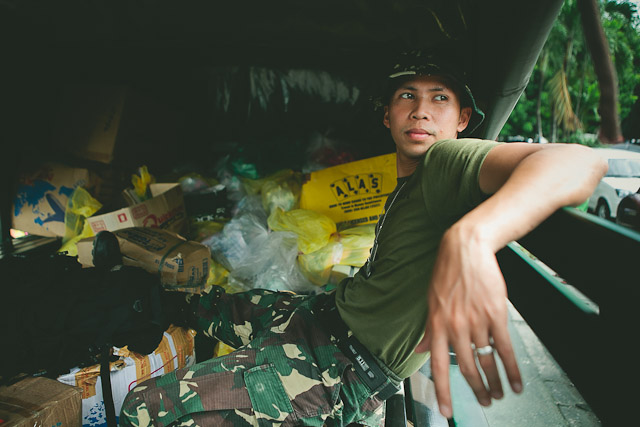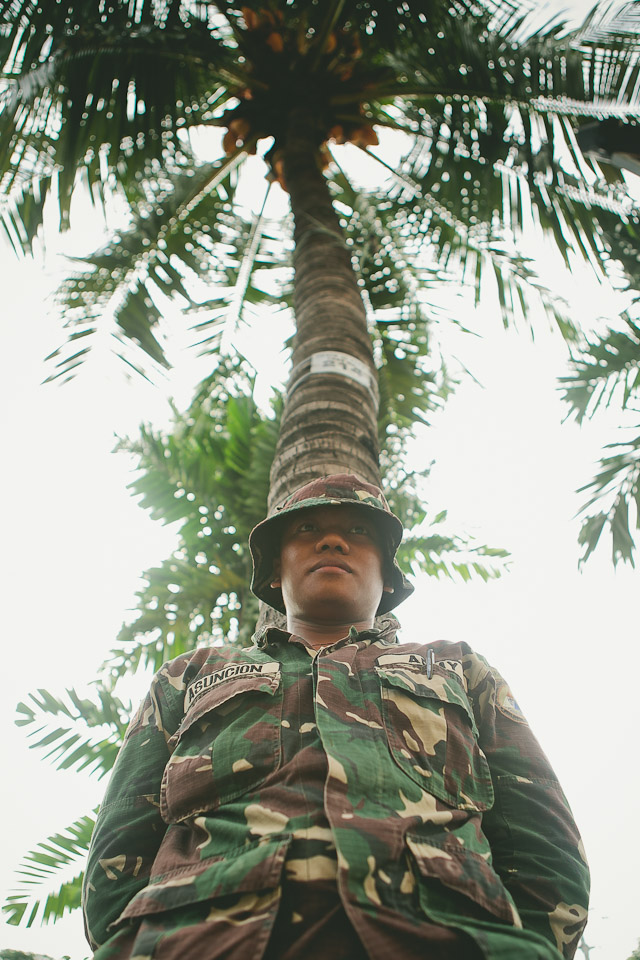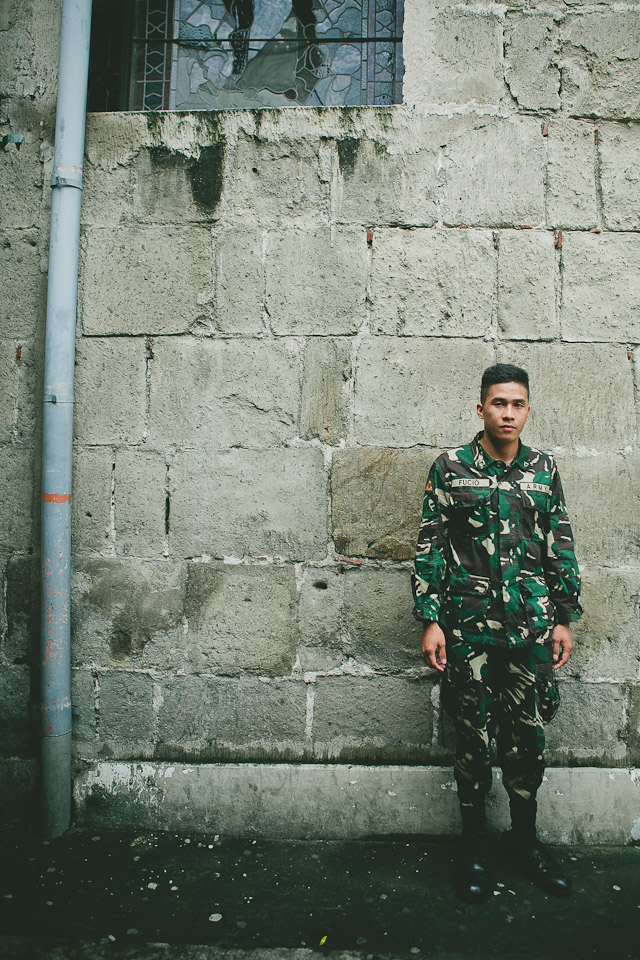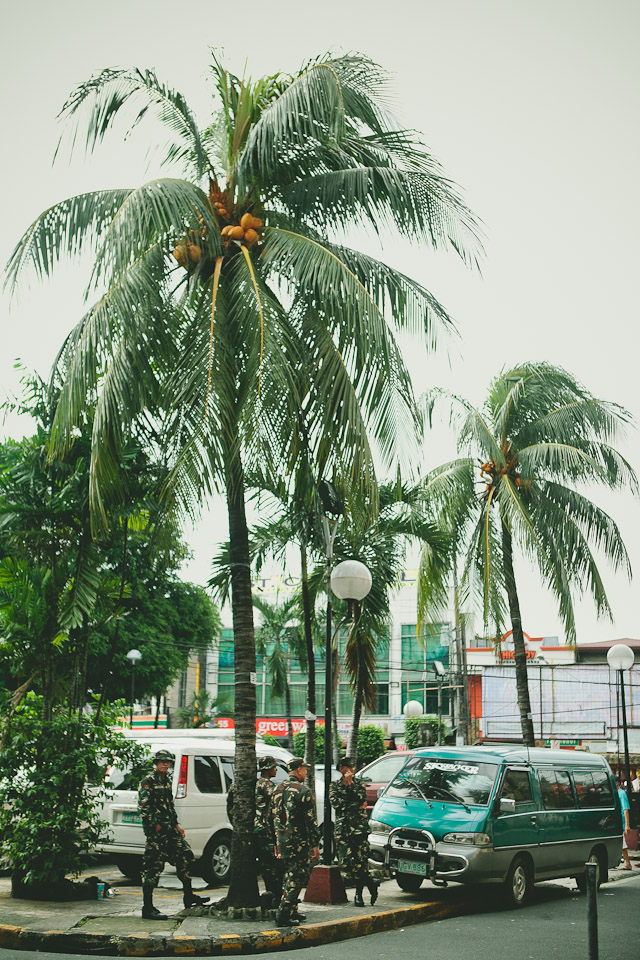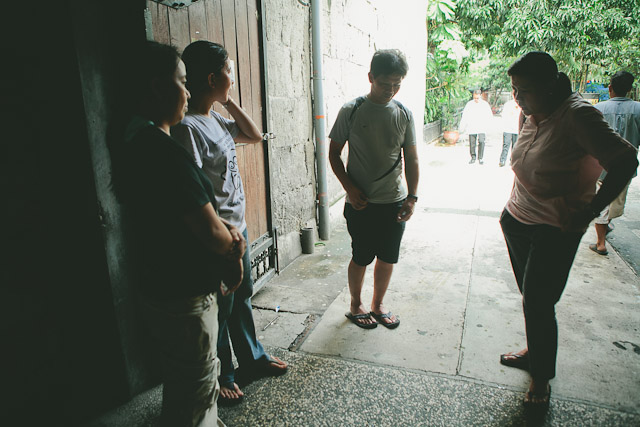 The Poveda staff waiting for their contact in Pasig Cathedral.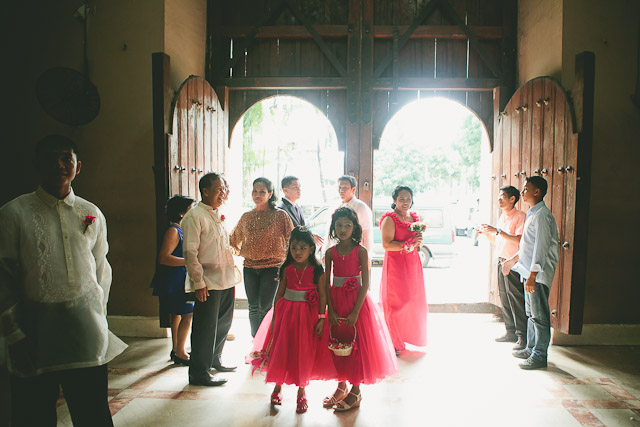 I walked around the Cathedral and I noticed a wedding was about to take place.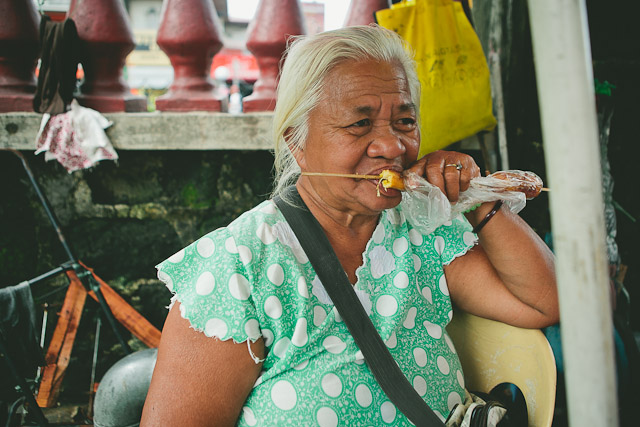 An old lady eats a bananaque outside the church.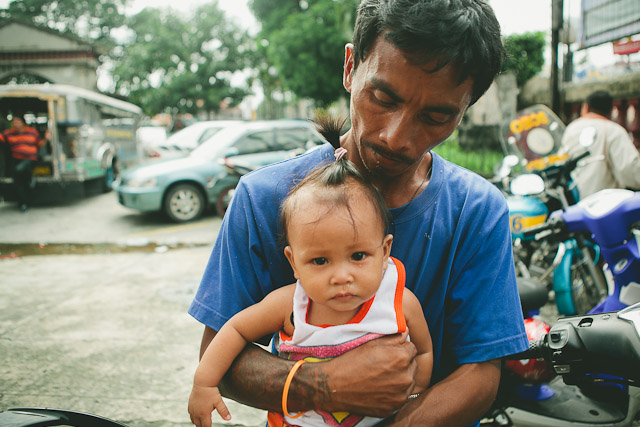 A baby cries while being held by her father. The man said that his daughter was hungry.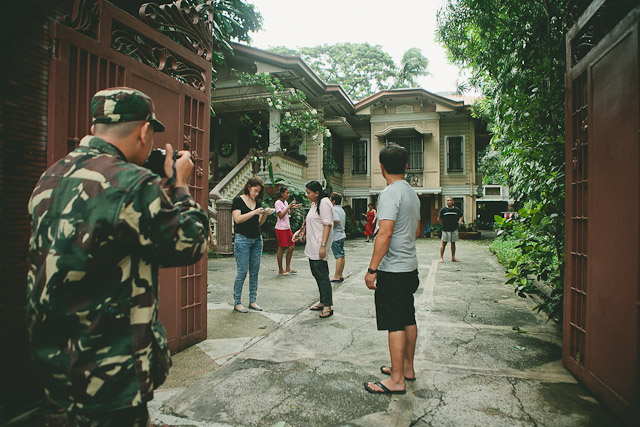 The next drop off point was at a Povedan alumni's house. The goods will then be brought to a community that Poveda regularly assists in Bambang.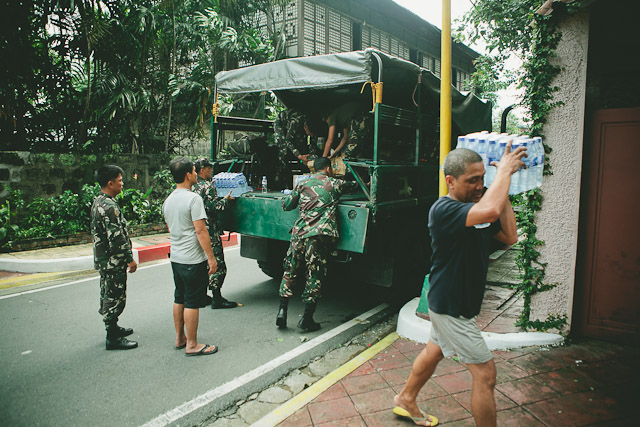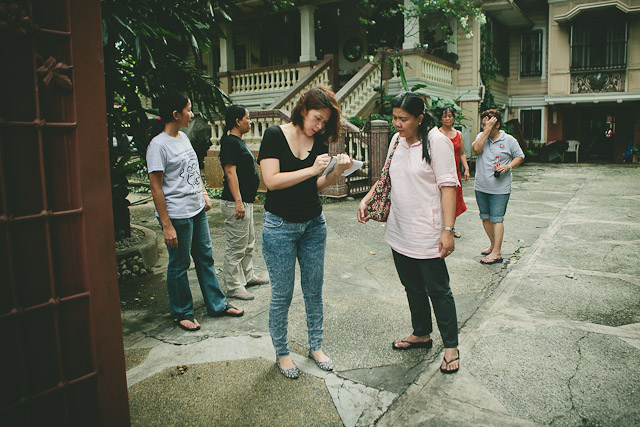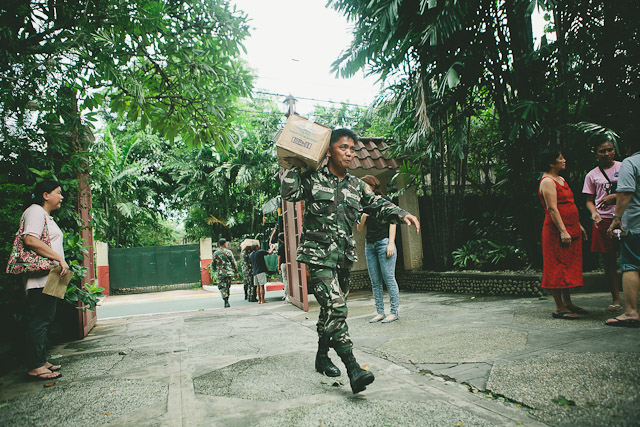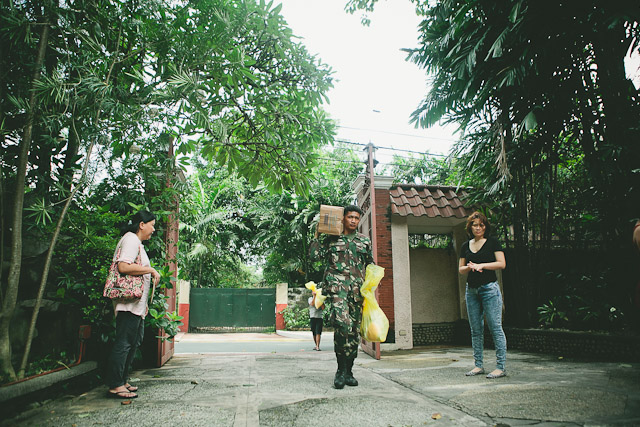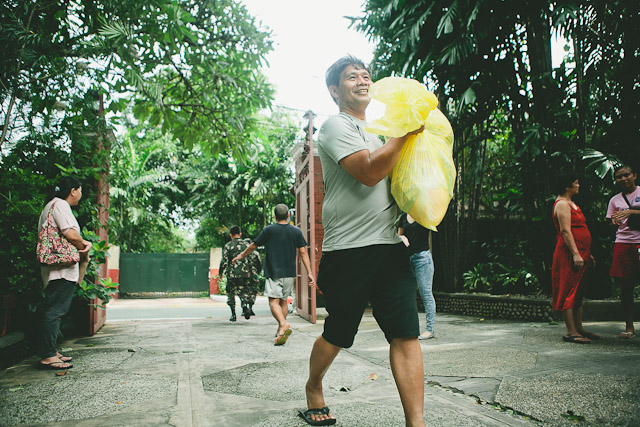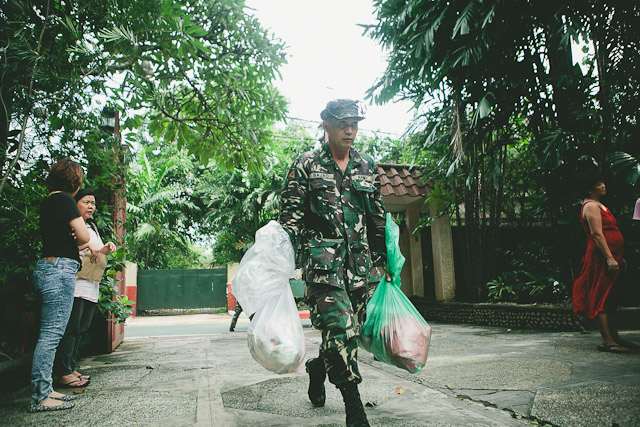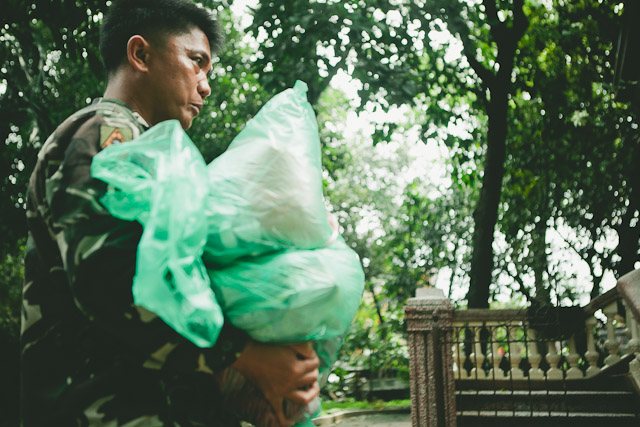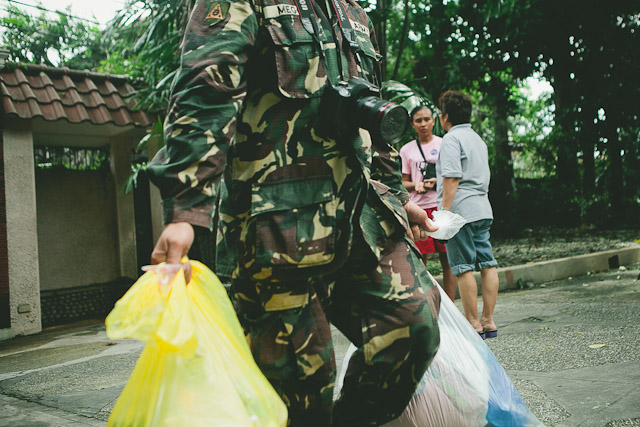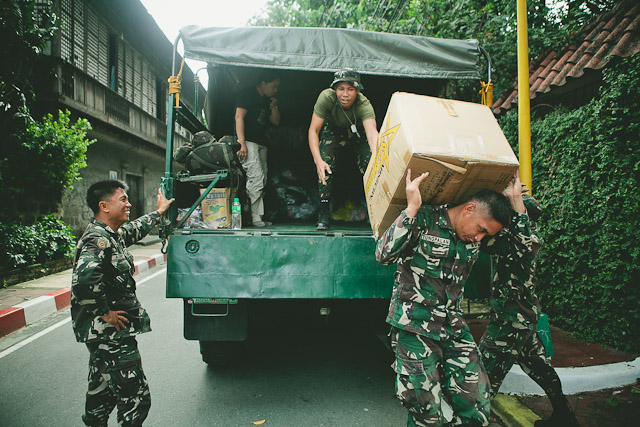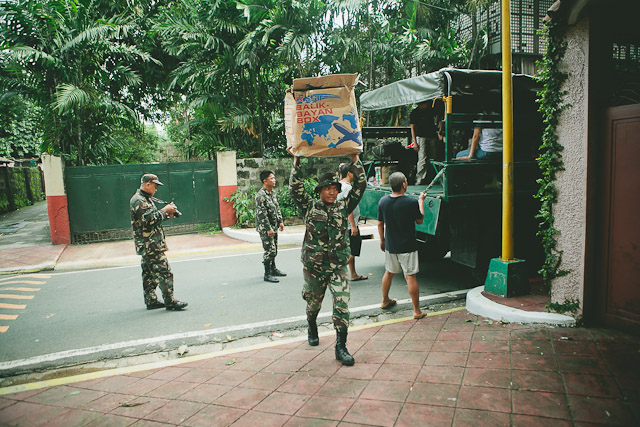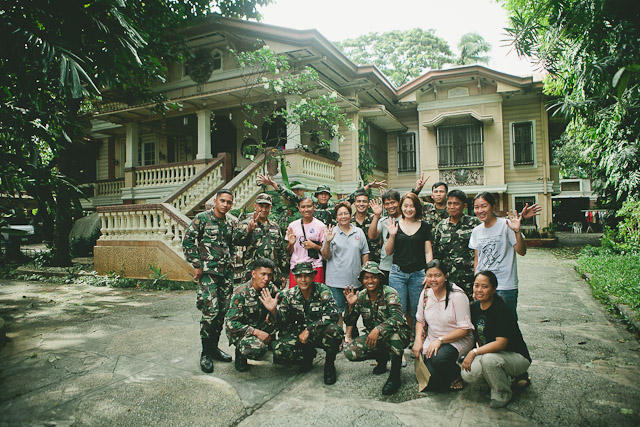 Job well done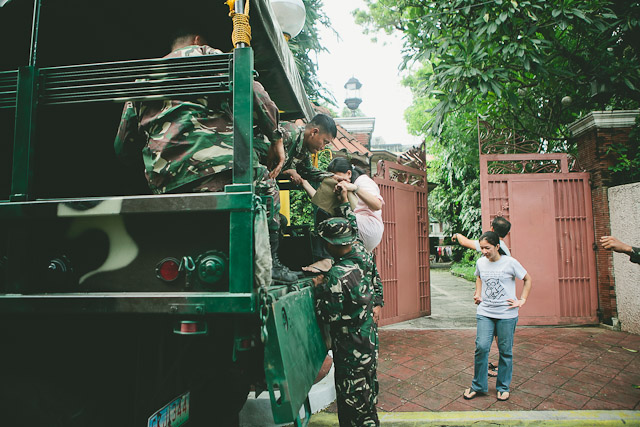 A soldier contemplating about life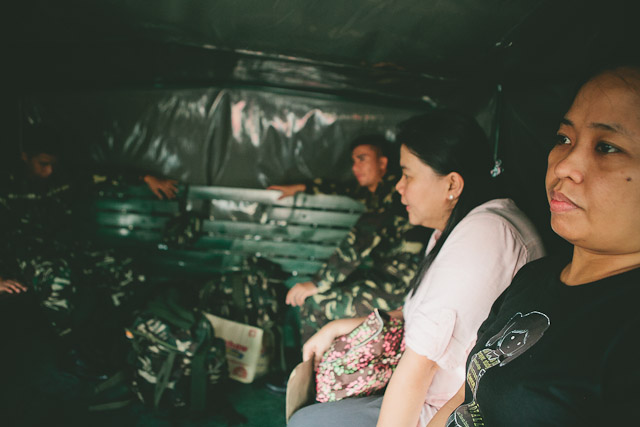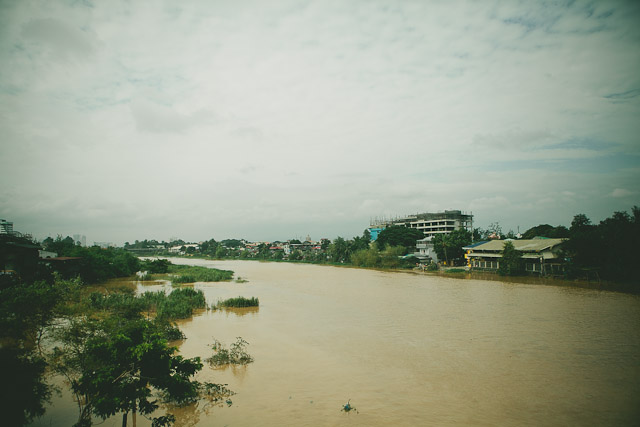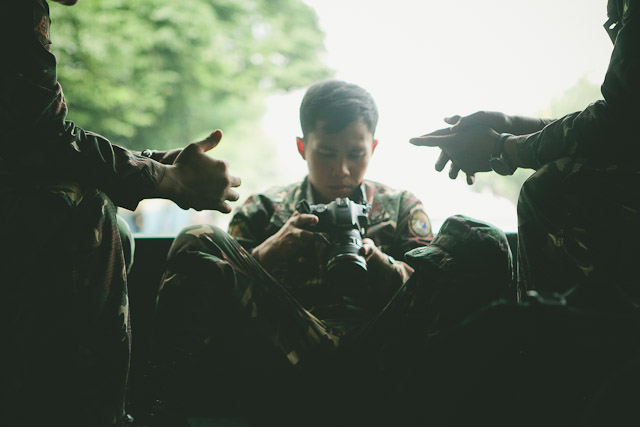 A soldier looks at his group's camera to review the day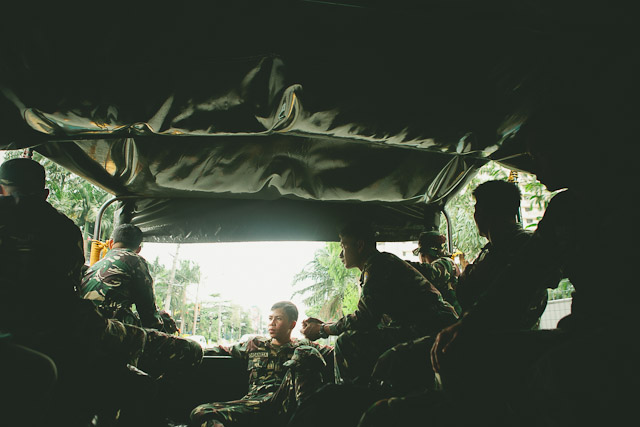 We all knew that there were still a lot to do and we could not let our fatigue get in the way.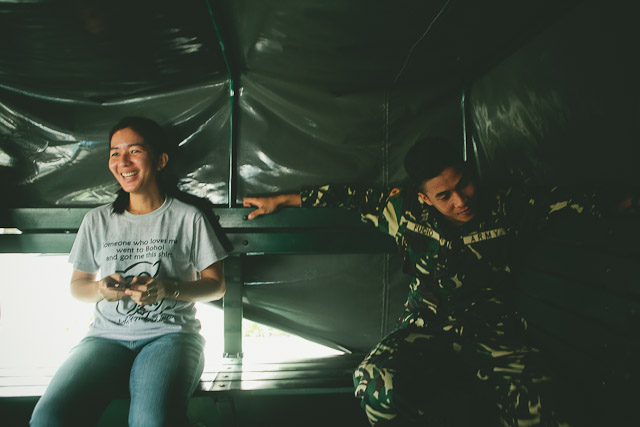 I felt that everyone was tired so I decided to joke around.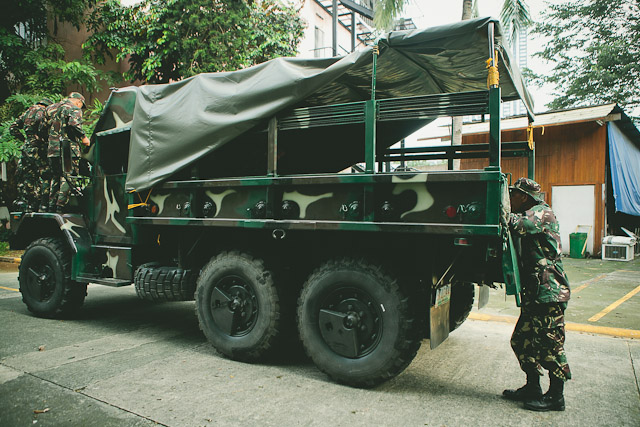 Back in Poveda…soldiers are still ready and good to go.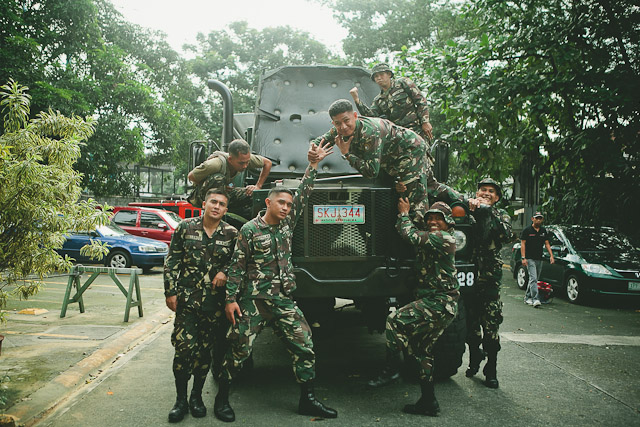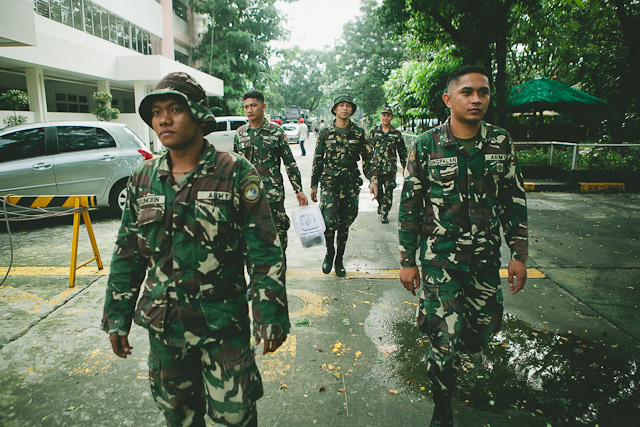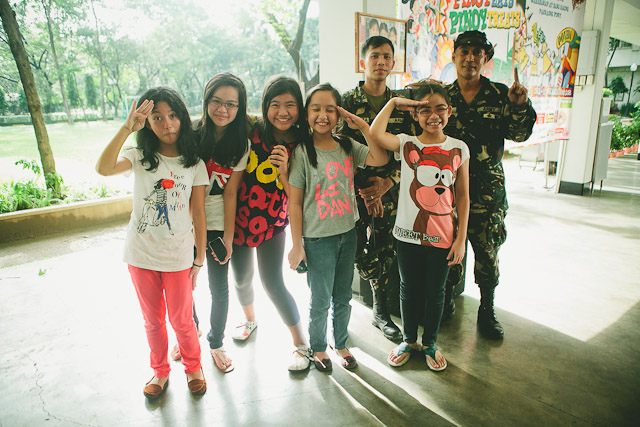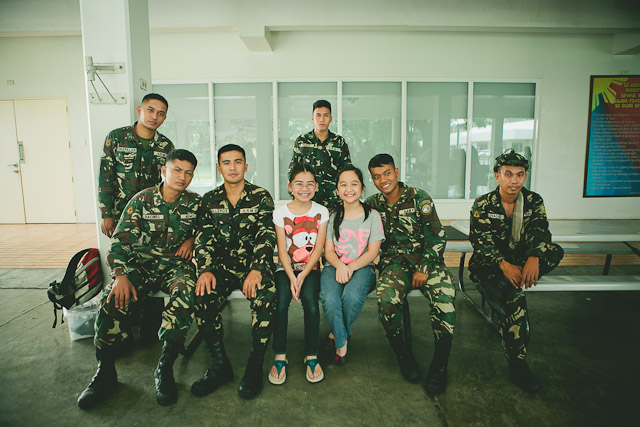 Povedan girls asks for the soldiers to take a photo with them.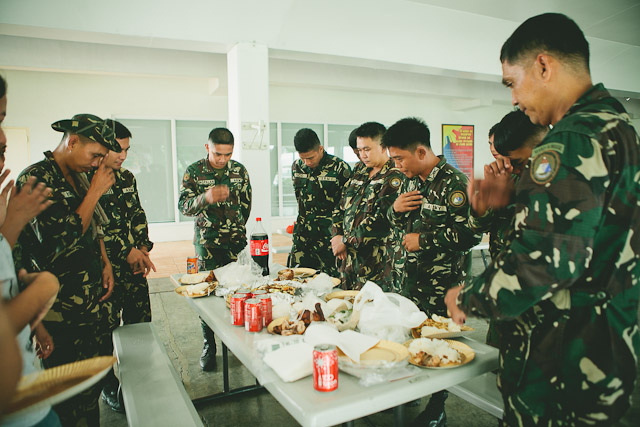 Bless us oh Lord…prayer before meals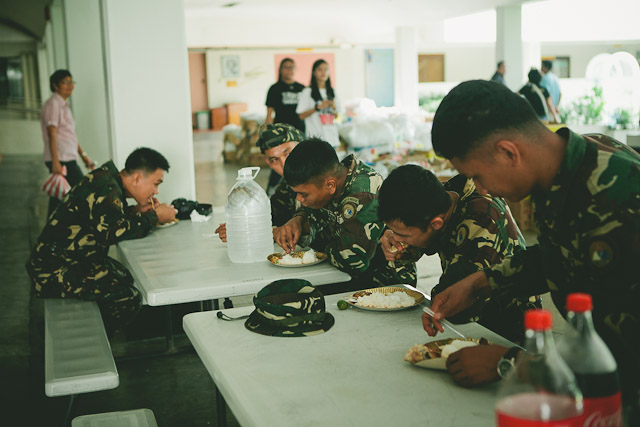 The Teresianas fed us good food.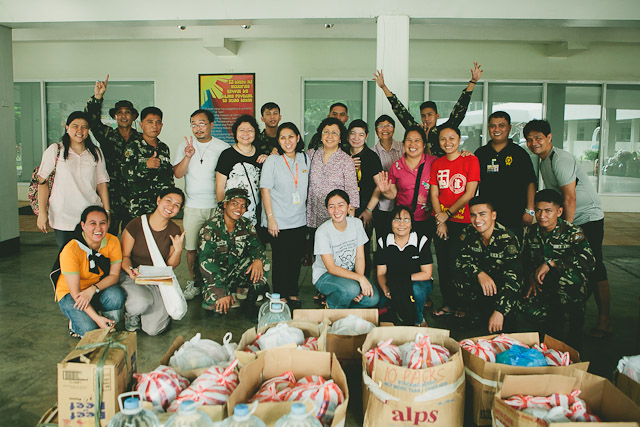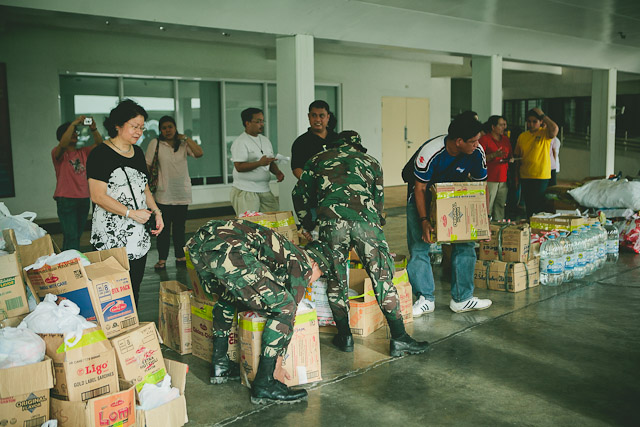 After eating, the soldiers went back to work again and loaded the goods to be delivered to the victims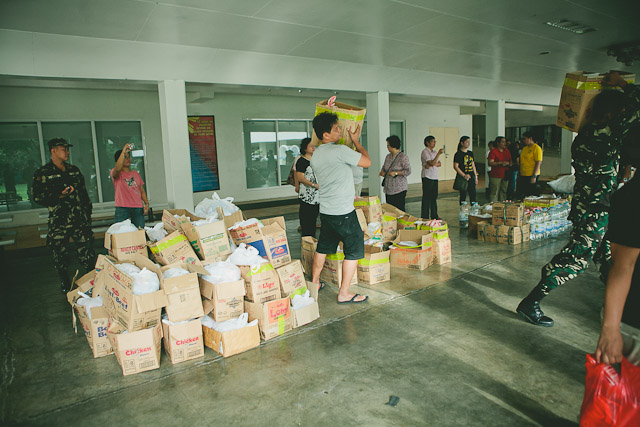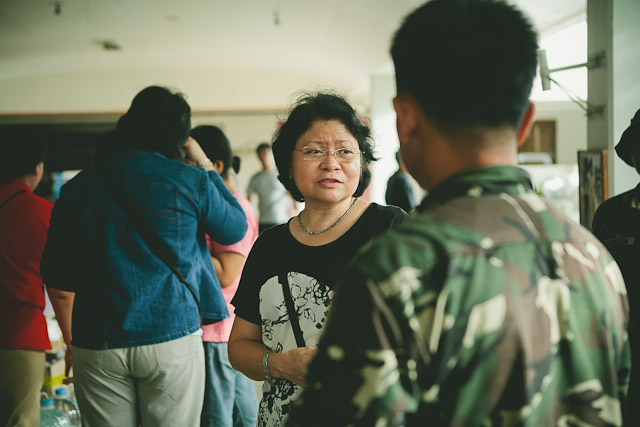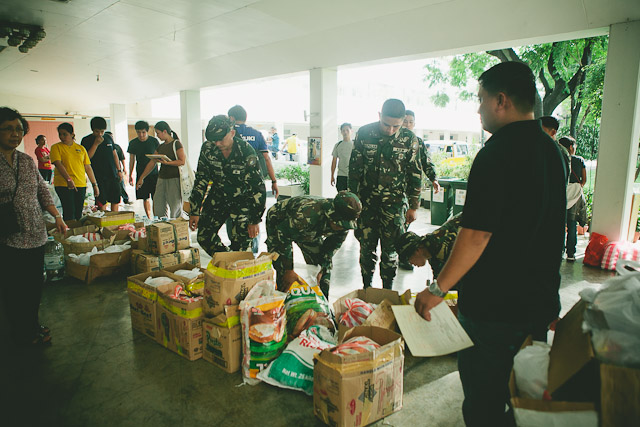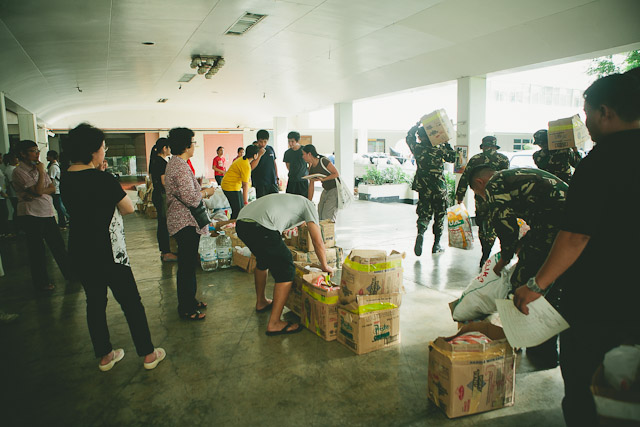 It's the same thing all over again
Load the goods to the truck then deliver the package.
This will be their routine for a long time because a lot of people need help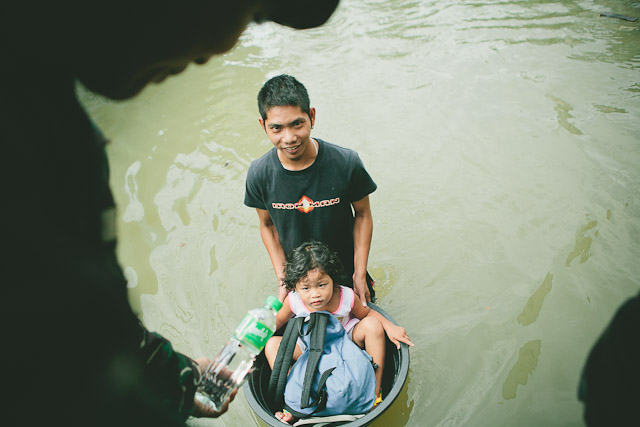 The flood has destroyed everything for some…
What we do to help can mean everything to some…
Relief operations will continue for the coming months. If you would like to share your blessings, please get in touch with Poveda or you can contact me if you would like to help out in anyway.
I hope everyone finds this photo essay as an eye opener. A lot of our brothers and sisters are in dire need of help. We must all do something to help our country rebuild. Let's all do our part. God Bless the Philippines.
  var _gaq = _gaq || [];   _gaq.push(['_setAccount', 'UA-30002900-1']);   _gaq.push(['_trackPageview']);
  (function() {     var ga = document.createElement('script'); ga.type = 'text/javascript'; ga.async = true;     ga.src = ('https:' == document.location.protocol ? 'https://ssl' : 'http://www') + '.google-analytics.com/ga.js';     var s = document.getElementsByTagName('script')[0]; s.parentNode.insertBefore(ga, s);   })();